Decolonizing Design: Making Many Worlds Possible Through 'Other' Discourses & Practices was a talk hosted on the 22nd of June by Habib University's Centre for Transdisciplinarity, Design & Innovation, at the Soorty Lecture Hall. The talk was given by Ahmed Ansari, a doctoral candidate in Design Studies at Carnegie Mellon University (CMU), and was primarily about the design community and its approach to ethics and politics.
Ansari started off by discussing the events of 2010, when Bruce Nussbaum wrote an article headlined, "Is humanitarian design the new imperialism?" Ansari explained how this article was, in a sense, the beginning of a mainstream discourse around decolonizing within the design circles.

Ansari then took his audience to 2014, when Michael Burton and Michiko Nitta were criticized by John Thackara for their exhibition at the MOMA. Ansari shed light on how this article was instrumental in the change that caused the current landscape in the design ecology. According to him, the article – which accused speculative designers from privileged institutes of living in a bubble – triggered a global debate that soon turned ugly, where one camp of designers pleaded their right to produce work that singularly dealt with the "aesthetics, class, ethnicity, race, gender, politics, and ethics", while the other camp stood against them in this approach.
Another disagreement amongst the global design community is what brought the platform Decolonizing Design to life. As this disagreement began to turn ugly, a significant number of designers left the PhD design list – which served both as a repository and as a community. Eight of these designers, Ansari included, then joined forces and created the platform.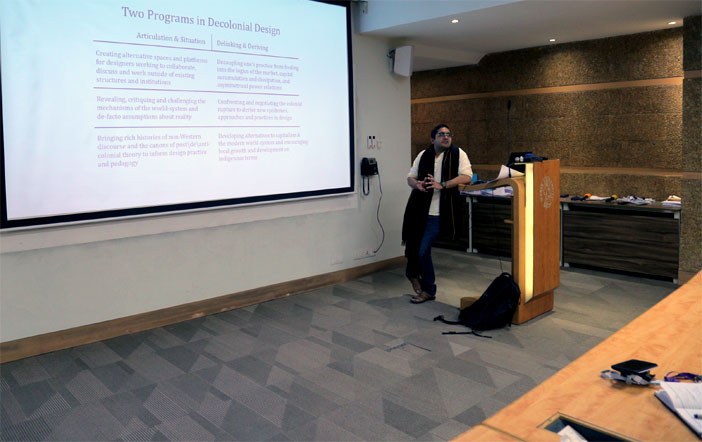 The idea behind Decolonizing Design was that it would be open to all, and the movement had two main objectives – to be a platform for the articulation and the discussion of colonial discourse within the discipline of design, and to establish a "positive project of delinking from the world-system and deriving plural alternatives through the creation of new forms of practice."
Ansari wrapped up his talk with a brief overview of his approach to the aforementioned events. He also inadvertently brought to light the politics within a discipline, whereby most practitioners and theorists argue that their work should be free of politics itself. He concluded the event by talking about his thesis and the work he intended to do in the near future. After the talk, Dr. Anzar Khaliq and Gulraiz Khan of the Playground kick-started an unmoderated Q&A session, that was continued outside the lecture hall, over tea.
Ahmed Ansari is currently conducting two courses over summer, through the Playground at Habib University. For details and registration, please visit: bit.ly/2y34tMO