In recognition of the high academic achievements of the Class of 2019, Habib University on June 14, 2019 held an Awards Night ceremony on its campus. The event was one in which this year's graduates, the Pioneers, were able to reflect on the past four years and how their academic attainments and hard work have helped not only their own personal success, but also that of the University.
Members of Habib University's Board of Governors, Board of Directors, President Wasif Rizvi, Deans, faculty members, guests and graduating students all attended.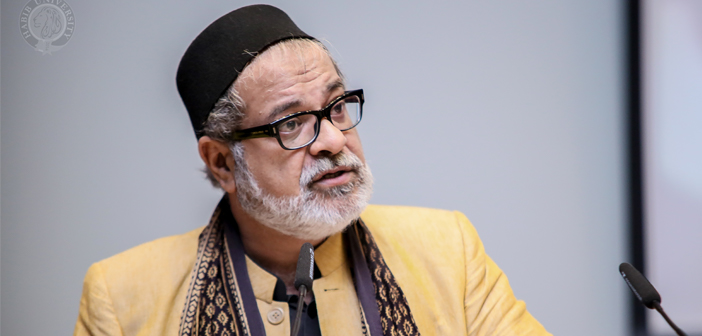 In his opening remarks, Dr. Nauman Naqvi, Director, Comparative Liberal Studies, spoke about Habib's journey over the years and how its philosophy of Yohsin has guided the University.
During his speech, Dr. Naqvi emphasized that "transmission of education is the essence of Habib's motto of Yohsin," and that the purpose of a Liberal Arts education was, "to heal a broken world."
With great pride, he paid tribute to the hard work of the Class of 2019 and said that, "at this awards ceremony we showcase all of you as the pearls of Habib University." After Dr. Naqvi's speech, Dr. Asif Farrukhi, Director for the Arzu Center for Regional Languages and Humanities went on stage to say a few words.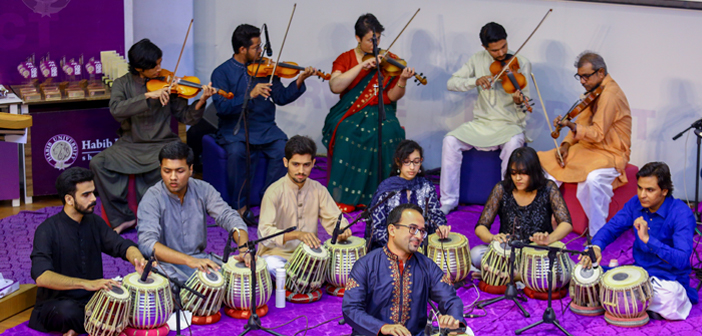 Next was a dazzling musical performance by the Habib University Orchestra, led by faculty member and musician Yousuf Kerai. The audience, who greatly appreciated the musical talents of the HU students, greeted their concert with a standing ovation and a long round of applause.
President Wasif Rizvi then went on stage, where he spoke about the Class of 2019 and how their example has made them Pioneers worthy of emulation for future students at Habib University. He said that the graduates were like the early American pioneers, who had opened up the frontier for all those that followed their footsteps.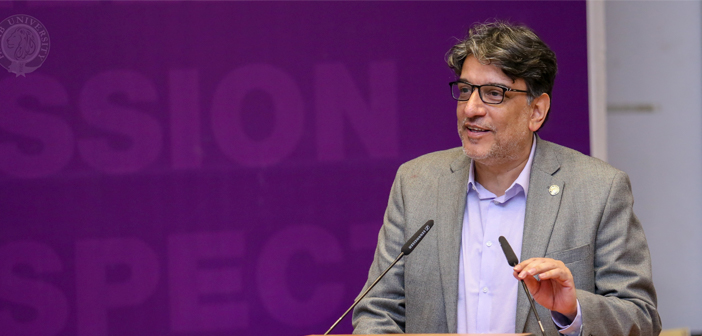 "You all will be seen as heroes in the story of Habib University," Mr. Rizvi said and that, "the investment we have put in you our Pioneers was very well placed." He emphasized that this spirit of setting an example worthy of emulation, is what will push Habib University to greater heights.
Dr. Sabyn Javeri, Assistant Dean, School of Arts, Humanities, and Social Sciences (AHSS) then went onstage to give some of her thoughts about the graduating students, where she wished them the very best and all the success in their future endeavors. She then announced the Faculty Awards for AHSS, which were presented by President Wasif Rizvi. Following this, Dr. Anzar Khaliq, Assistant Dean of the Dhanani School of Science and Engineering (DSSE), announced the Faculty Awards for DSSE.
Dr. Anzar Khaliq, Dr. Shahid Hussain, Program Director of Computer Science and Dr. Amir Hasan, Program Director of Electrical Engineering, then presented the best Capstone Awards, from the DSSE, in Electrical Engineering and Computer Science.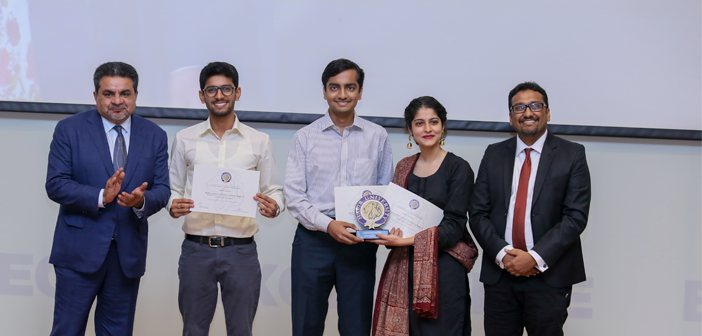 The Best Capstone Design Project Award for Electrical Engineering was given to students from two groups. The winners from Group A, were Fariha Farooq, Farjad Ahmad, and Syed Talal Wasim, while from Group B, the Award was given to Saad Nazir, Zahra Amjad, and Muhammad Arhum.
Next Dr. Sabyn Javeri and Mr. Muqeem Khan came on stage to announce the Best Interdisciplinary Capstone Design Project, which was awarded to Syed Shariq Raza and Ameera Naz Saeed.
Dr. Anzar Khaliq then handed the Best Capstone Design Project (Kaavish) in Computer Science to Mohammad Shakaib Saleem, Syeda Naeema Hasan, Alizar Lalani, and Hasan Habibullah Sachwani.
After that, Dr. Anzar Khaliq handed out the Best Undergraduate Research Achievement Awards. The winners in this category came from two groups. In the first, Zahra Amjad was awarded for her project, 'Sources of Power Generation in Pakistan- A Feasibility Study'. From the second group, Muhammad Ali Haider Dar, Syed Hasan Shozab Abidi, and Syed Muhammad Haider Raza Rizvi won for their project, 'Determining the Efficacy of Haptic Feedback and VR in Flight Simulation Training'.
Next came the AHSS: Best Thesis / Capstone Awards, presented, by Dr. Sabyn Javeri, interim Program Director of Social Development and Policy, Dr. Shama Dossa and the interim Program Director of Communication and Design, Mr. Muqeem Khan.
The winner of the Overall Best Thesis in Social Development and Policy was Shajia Saleem Mithani, while the Overall Capstone Award winners for Communication Studies and Design were Mahnoor Shoukat Bawa, Iqran Rasheed and Ummul Baneen Fatima.
Following this were the Student Government Awards, which was introduced by the President of the Student Government, Ms. Amna Qureshi, in the categories of Leadership Award, Service Award, Social Change through Advocacy Award, Social Change through Technology Award, and the Social Entrepreneurship Award, as well as awards for Leadership Service and Innovation. Ms. Yasmeen Bano, Director and Head of Student Affairs, was then invited on stage to present the awards to the winners.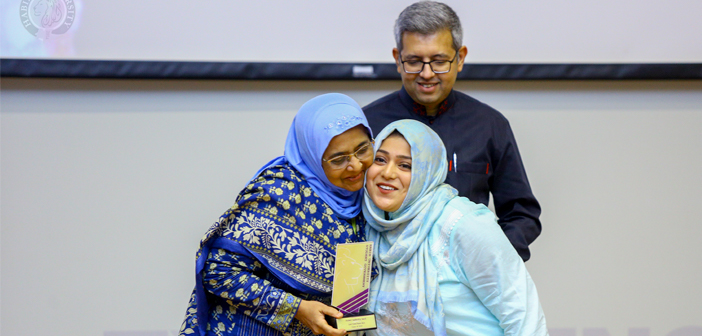 Following this, Vice President of Academic Affairs and Dean of Faculty, Dr. Christopher Taylor went on stage to give out the Commencement Medals for the Class 2019. The Dean's Medal in Electrical Engineering and in the Dean's Medal in Computer Science went to Syed Talal Wasim and Safian Haq, who were the respective winners.
The Dean's Medal for Social Development and Policy went to Maisam Hyder Ali, while Abiha Batool won for Communication Studies and Design.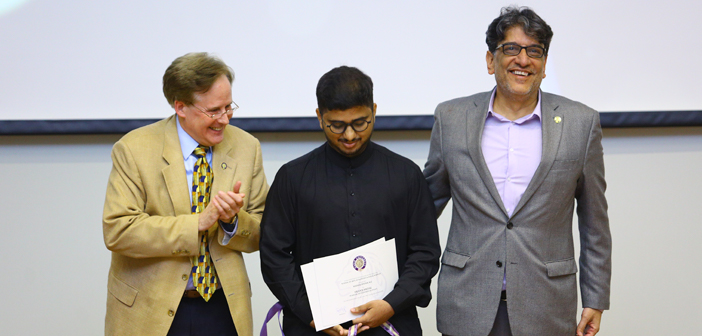 The culminating and most preeminent award of the night was the President's Award. Dr. Christopher Taylor and President Wasif Rizvi went on stage to give out the medal, which this year went to Maisam Hyder Ali, who had the highest CGPA of the entire graduating batch. Maisam was also declared the Valedictorian Speaker for Convocation 2019. At the end of the ceremony, students and faculty members gathered for a group photo.