Living in times where most of the conflicts in the world are being framed in religious terms, it becomes essential for an individual to understand and comprehend the nexus between religion and culture in a certain society. These are the times which call for an understanding of various differences that has led to polarizations, tensions and unrest in various corners of the world. Revolving around the same concern, Habib University hosted a talk on the significance of Religious and Cultural Literacy in a Cosmopolitan World, at the Tariq Rafi Lecture Theatre.
Moderated by an esteemed member of Habib University, Dr. Nauman Naqvi, Founding Faculty and Director of the Liberal Core, an enlightening and engaging session was conducted by Dr. Ali Asani, Professor of Indo-Muslim, Islamic Religion and Culture at Harvard University.
Being the former Director of the Prince Al Waleed bin Talal Islamic Studies Program at Harvard, Dr. Asani has also served on the faculty of the Departments of South Asian Studies and African and African-American Studies. He is the recipient of the Harvard Foundation Medal for his outstanding contributions to improving intercultural and race relations by promoting a better understanding of Islam and Muslim Civilizations.
Open to the general public, the event drew a large number of people from various walks of life, including donors, renowned personalities from the fields of education and media, students, and corporates from different organizations.

Starting off with a brief introductory address by Dr. Mariam Chughtai, Country Director Pakistan, Harvard University South Asia Institute (SAI), the event consisted of a two-hour long session by Dr. Asani, exploring how illiteracy concerning the nature of religion has led to political climates that are threatening the pluralistic fabric of society. The talk also stressed on how important it is to create awareness and promote literacy in the same sphere, which eventually contributes towards the well-being of societies on the whole.
Tracing the root cause of religious and cultural illiteracy, the presentation began with a question which according to the speaker, reverberates almost all over the world. The question, "Why do they hate us?" has always been the nucleus triggering all sorts of polarization and differences rising around religion. Rather than learning from individual differences and treating it as a sign of divine genius, the exposure to religious and cultural diversity, unfortunately, has not led to understanding one another thus, resulting in the following adverse manifestations of religious illiteracy such as:
Equation of religion with devotional practice, rites, rituals and ceremonies.
The essence of religion is perceived as located in sacred texts.
Religious traditions are seen as timeless, unchanging and monolithic.
Religions are seen as actors having agency – although Islam is not a person with emotions.
The use of religion as the exclusive lens to explain the actions of an individual or community.
An entire religious community is held responsible for the actions of an individual.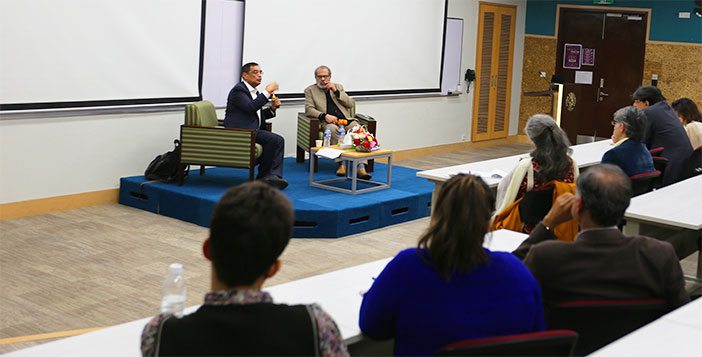 The speaker went on to explain that to equate religion to just the scripture is problematic because scriptures are interpreted by people and their interpretation is being influenced by various factors including and not limited to their educational background, cultural background, gender, and economic circumstances.
He also pointed out the dangers of religious illiteracy saying, "It diminishes respect for diversity and results in stereotypes and dehumanization," and that "Religious illiteracy can also be exploited by ideologue to promote extremism and fundamentalism."
Dr. Asani views "Religion as a cultural phenomenon that is deeply embedded in all dimensions and contexts of human experience and intricately interwoven within the historical, political, economic, and social contexts, therefore requiring multiple lenses to understand." Speaking on developing an informed understanding of the religion, he believed that the interpretations of religion change with the changes in these contexts.
"Today, the ideologies of nationalism are more influential in determining Muslim experiences than the actual practice of the faith. If you look around the contemporary Muslim world, you will see that it is not important what kind of Islam you practice or how you practice it but where you practice it makes a difference. What it means to be Muslim has been tied up with nationalism these days," he expressed.
Speaking on the construction of religion, Dr. Asani stressed upon the need to remove the blindfold of illiteracy and make use of sonic, visual and literary arts in raising an informed understanding of religion.
"These have been the central means by which Muslims understand and experience their faith. In most of the religious traditions, the way in which people experience faith is through senses. What we are talking about here is aesthetics, and traditionally, I would say, that these art forms have been important vehicles through which religious ideas and teachings are transmitted and given expression," he said.
The speaker then presented his own contextual/cultural approach for teaching faith to students. He also emphasized upon having an education system where students are provided opportunities to engage critically in the academic study of religion while employing social, scientific and humanistic methods.
The session concluded with a huge round of applause and praise for the speaker while the audience was left with enough food for thought with the matter at hand.
View the full length video of the talk here.
Read coverage by Dawn.com here.
Read coverage by Express Tribune here.
Read coverage by TheNews here.