On Monday 13th August, Habib University grew its student community to over 800 by welcoming the Class of 2022 as the fifth and biggest class yet. Having invited the 266 freshmen students and their parents for an evening celebration, a recitation from the Quran by student Muhammad Usaid, and a bilingual welcome note by senior students Ubaid Ali Faruqi and Zuha Sohail welcomed them as new members into the community. "Our success is greatly due to the efforts of the greater community, and we welcome you!"
Founding President of Habib University, Wasif A. Rizvi, in an established tradition, asked the students to stand and acknowledge their parents with gratitude for bringing them this far. After all, only five per cent of the world's population ever attends university.
"

HU President Wasif Rizvi speaking at #NSO2018 pic.twitter.com/HAox6XBg4T

— Habib University (@HabibUniversity) August 13, 2018
He first presented some statistics of the incoming class. This year more freshmen students will be studying in the Dhanani School of Science and Engineering, which is remarkable in the more crowded market of science education in Pakistan. "We are also lucky to welcome 25 students from outside of Karachi – as far away as Skardu and the Middle East, and on the eve of 14th August are particularly happy to celebrate this diversity." 
Academic distinctions and highest position holders of schools boards are amongst the credentials of the incoming class.
With sher shairi or verses from the famous poet Ghalib, in alignment of the university's academics of deeply engaging with local traditions, the President further encouraged students to step out of their comfort zones to explore new possibilities. "Why do we use this sher for the class of 2018? The Co-Founders took this step four years before you did, graduated this May, and are already placed in leading companies, founding startups, or heading to graduate school. The Class of 2019, or Pioneers, grew in terms of numbers; they will graduate at the end of this academic year. With the Trailblazers, our partnerships grew as more international academic partners trusted us. With the Pathfinders as the last class name, new campus spaces developed and faculty numbers soared. You are coming into a tradition of excellence and recognition."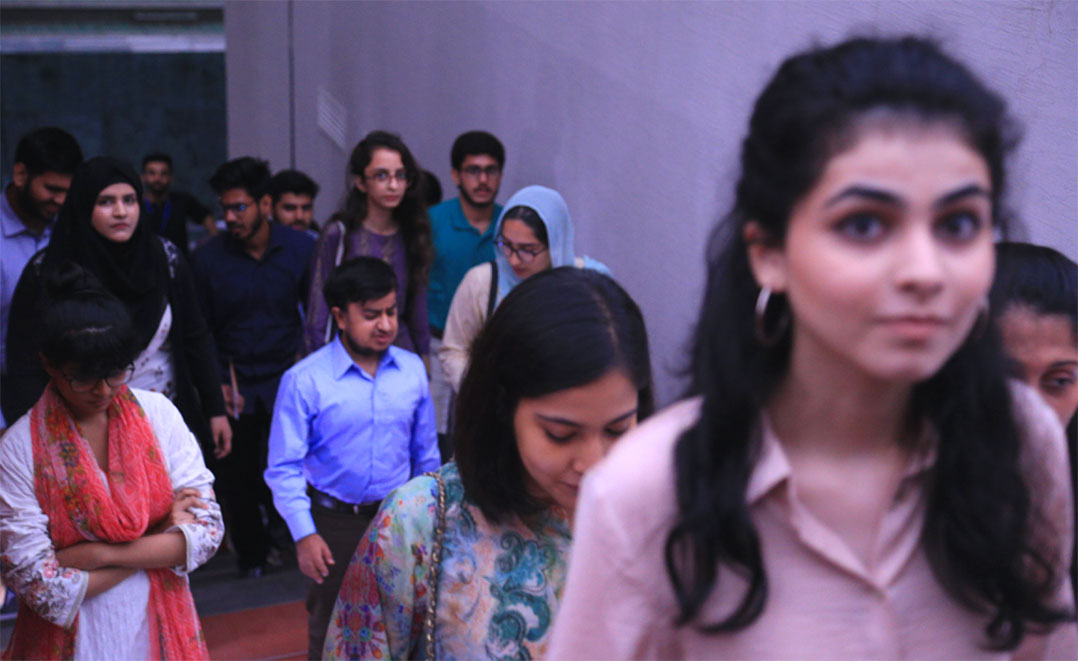 The President continued to speak of the unique academic facets they will encounter at Habib University, including the distinctive curriculum that is organised around seven Forms of Thought, as only Harvard and Stanford also do: "While this may seem confusing and challenging, the more you think about it, the more special it will appear, and show you the next step of possibilities. Moreover, the university this year has introduced four new minors, and next academic year will be expanding to two new majors that many of you will be able to choose. The university is expanding and taking these steps with you."
Paying tribute to the faculty, he said that "we could not even have conceptualised this without you". Attracting eminent scholars "is a big deal", and since this very month, the university boasts 62 full-time faculty trained from around the world.
"Global outreach is one of the key features of our story." Noting that these are more than MoUs but partnerships in action that craft the intellectual fabric, he invited the new students to think forward to study abroad opportunities with Stanford, Michigan, Berkeley, and soon the Claremont Colleges: "Part of the reparative process of postcolonial society involves going abroad to experience other parts of the world with your own eyes" as well as participating in the platform for engagement with the world and it's scholars that regularly come speak at Habib University.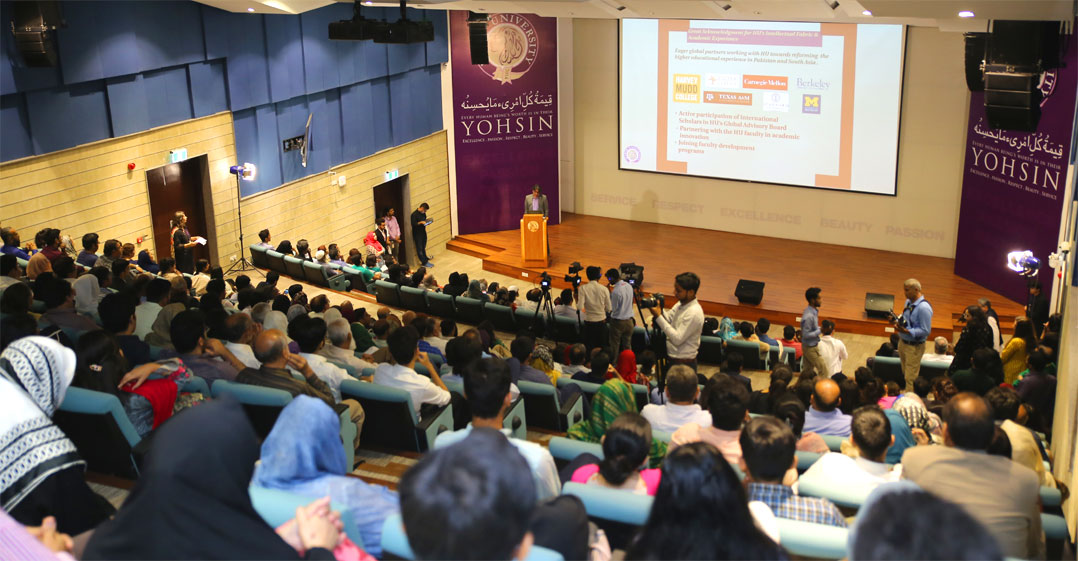 To enable all those merited to participate in this transformative four undergraduate years, Habib University has unprecedented scholarship and financial aid programs. "The thanks for ensuring a qualitatively different, diverse student community and experience goes to our donors." Numerous teams across campus – from academic advising to careers services – enable success during and even post-graduation.
"All of these aspects are like oasis in the desert", President Rizvi concluded: "The oasis of a great academic program. Of great faculty. Of exceptional partnerships. Of a beautiful campus. All of these are for you to navigate. Welcome to the Habib community!"
Making students equal stakeholders in the university and it's development is the responsibility of the Habib University Student Government (HUSG). Current President of HUSG, Shayaan Aijaz welcomed the new cohort: "We look forward to nurture you as Habib lions into active leaders and thoughtful citizens. I reassure you that the next four years will be some of the most transformative, ever. You will find yourselves personifying the values of Yohsin. Each of you are about to begin your own and unique journey."
"

The President of HU Student Council speaking at #NSO2018 pic.twitter.com/FqUIbbMnJj

— Habib University (@HabibUniversity) August 13, 2018
Continuing into the evening, two parallel sessions familiarized both parents and students in more depth to different aspects of the university.
In the auditorium, Dr. Anzar Khaliq told the parents that "We have learned a great deal about the importance of what we are trying to do at Habib. There is great reason we chose this place to work, from inside and outside of Pakistan." He spoke about the way that students study changes altogether, and that they will learn to develop social links that take them forward throughout life. A parent of a current student encouraged with the following words: "You will face challenges with change. With change comes pain. We didn't identify our daughter's mistakes as failures but told her those were opportunities to learn and grow". Many parents had the opportunity to ask questions with regards to extra-curricular opportunities, assessment and support, as well as the importance of studying Urdu literature at Habib University to deeply engage with the local context.
"

A briefing just for parents at #NSO2018 pic.twitter.com/m24707nocl

— Habib University (@HabibUniversity) August 13, 2018
In parallel, the new cohort was introduced to their Orientation Leaders and were brought into direct conversation with the university's President in Tariq Rafi Lecture Hall. They asked questions ranging from the challenges of establishing a new university to personal motivation in the project. A number of questions related to the values of the institution were asked. The President noted that "leading universities share a great sense of mission. Without wanting to copy a 'western' idea, the phrase Yohsin was very fitting in instilling five core values (excellence, respect, beauty, passion, and service) to raise the worth of every person and what he or she does." The sense of curiosity and excitement could be sensed amongst the students with many more questions waiting to be answered. Before the celebratory dinner in Tapal Cafeteria, the moderating students affirmed that "from our own experience, we reassure you that you have made the best decision and will make unforgettable memories together with our leaders who inspire us to the best every day."
From the entire Habib community: Welcome, Class of 2022!