On June 4, 2022, Habib University celebrated the graduation of the Class of 2022.  It was the first on-campus convocation after Covid and saw 200 students from the University's two schools, Dhanani School of Science and Engineering (DSSE) and the School of Arts, Humanities and Social Sciences (AHSS) receive their degrees.
From the DSSE, 97 students were awarded degrees out of which 29 students received Bachelor of Science degrees in Electrical Engineering and 68 students Bachelor of Science degrees in Computer Science. From AHSS, 103 students were awarded degrees, of which 56 students received a Bachelor of Science degree with honors in Social Development and Policy, and 47 students received a Bachelor of Arts degree with honors in Communication and Design.
The event was attended by the Chancellor Rafiq M. Habib, Members of the Board of Governors of Habib University, Members of the Board of Directors of Habib University Foundation, parents of the graduates, members of the Faculty, Deans, President Habib University, Wasif Rizvi and the Interim Vice President Academic Affairs and Dean of Faculty, Dr. Aamir Hasan.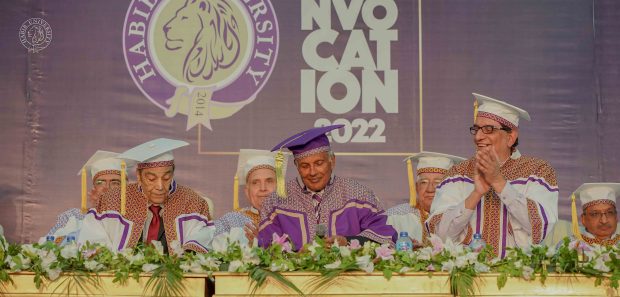 Addressing the audience, Hiba Shoaib, a Social Development and Policy major and the Valedictorian of the Class of 2022 said, "It's a privilege to represent a class that has demonstrated strength and resilience in the face of the global pandemic, and against all odds, emerged fairly unscathed." She thanked the faculty and remembered Late Asif Aslam Farrukhi, a core faculty member of Habib University who passed away in June 2020 and had a pivotal role to play in developing the university's flagship liberal core curriculum, "Let us also remember our very own late Dr Asif Farrukhi, a literary giant who always encouraged us to believe in our dreams, no matter how big."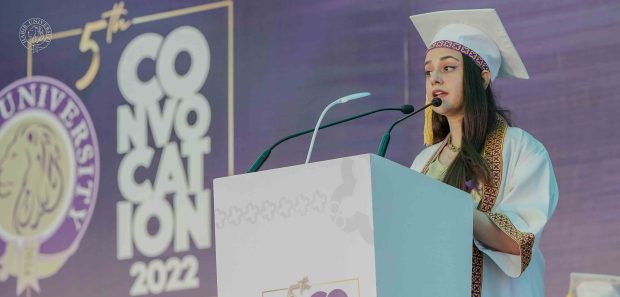 She also stressed the importance of the values taught at Habib, saying "The world itself is an elective for us now, so let us embark upon it and make history. And I really hope that as we do that, we all live a life rooted in the values and teachings taught to us at Habib, and that we carve out solutions for this ailing world, solutions that are fair, ecofriendly and inclusive."
Legendary artist, director, and television broadcaster, Zia Mohyeddin, delivered the keynote address.  Speaking on the occasion, he highlighted the difficult time that we're living in and advised, "I can hold onto my own belief that work is life and there's no point to life, other than work." Mohyeddin congratulated the graduates and advised them to dedicate their energies to solving the problems of the country.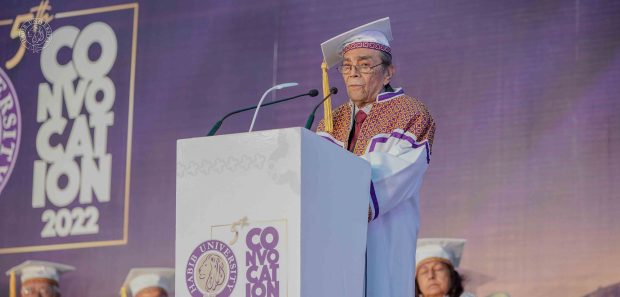 President Habib University, Wasif Rizvi, also congratulated the graduates and praised the university leadership for helping the faculty, the families of the graduates, and the students. "Class of 2022," he said, "in these four years you have acquired frighteningly powerful skills to excel in this pandemic. But more importantly, you have sharpened your critical insight to understand and navigate it. Your ability to prevent from becoming another victim to this infodemic will crucially depend on this insight and awareness."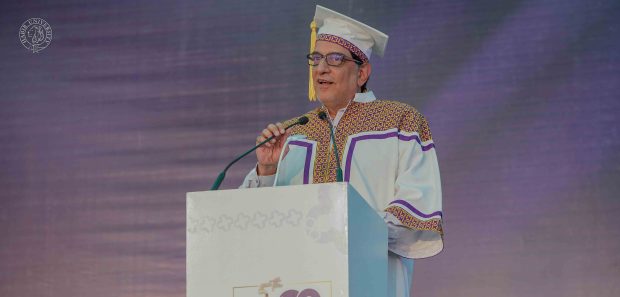 The University Chancellor, Rafiq M Habib, addressed the graduates and wished them all the success. "Dear Class of 2022, congratulations on your achievements. Despite many challenges, you adopted to the changing circumstances. I leave you with some guidance, principles and advice. Always live your life with truth. There is never a right time to tell a lie and there is never a wrong time to give the truth. Go out and make your mark in the world."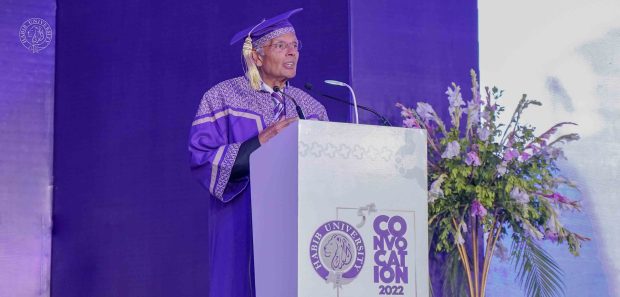 The Chancellor's Yohsin Medal, the most prestigious award at the convocation, was awarded to Muhammad Asher Khan, a Social Development Policy major.
Please watch Convocation 2022 highlights below:
The event was covered by Express Tribune, Thug Maza, EdgeandTaken, AsianThinkTank, 123hindinews, International News, Geo TV, SuchTV and AzaadPakistani.