The first of June marked two years since Habib University lost one of its brightest and most beloved faculty member – Dr. Asif Aslam Farrukhi – who was also one of the key originators of the university's flagship breadth curriculum: The Habib Liberal Core. Aside from his contributions to Pakistan's literary sphere, Dr. Farrukhi was popular amongst the Habib community for instilling a love for reading and literature in his students, his courses that felt more like conversations with friends, and for proving that professors teach more than just course syllabi.
On his second death anniversary, the Habib community gathered to pay homage to his pedagogical legacy in the form of the inauguration of " گوشۂ آصف فرّخی"(Gosha-e-Asif Farrukhi) where a portion of the Habib University Library has been dedicated to Dr. Farrukhi's memory in the form of 7,000 of his most loved books. In addition to the inaugural, a book titled: "اُس آدمی کی کمی" (Uss Aadmi Ki Kami) was also launched, which is compiled and edited by Professor Inamullah Nadeem, and contains essays and articles on Dr. Farrukhi's life and work.
In the first part of the ceremony, "Gosha-e-Asif Aslam Farrukhi" was inaugurated at the Habib University Library. This section of the library contains thousands of books donated by Dr. Asif Aslam's family to the university library. Mr. Nooruddin Merchant, Assistant Director, Library and Educational Programs, took the audience to the tour of the Asif Aslam Farrukhi Corner and mentioned that the furniture was chosen to match the one at his home library.
Syeda Ummul Baneen from the Office of Resource Development, who has also remained Dr. Farrukhi's student, introduced the speakers at the event and commented, "Asif Sahab munfarid thay (Asif Sahab was unique). Mukhtalif thay (He was different). Jaise kehte hain na, (it is normally said) one of a kind. You meet someone like him only once in a lifetime."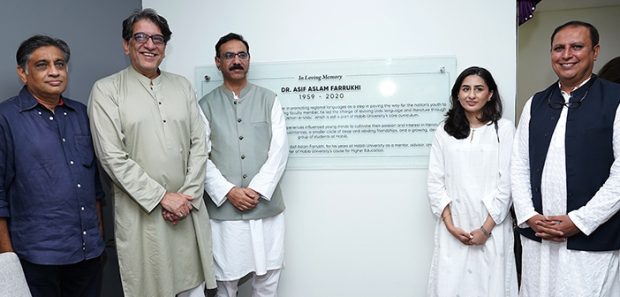 Addressing the audience briefly on the occasion, Dr. Nauman Naqvi, Associate Professor in the Comparative Humanities program, said that the late Asif Aslam Farrukhi was instrumental in shaping the curriculum of the university.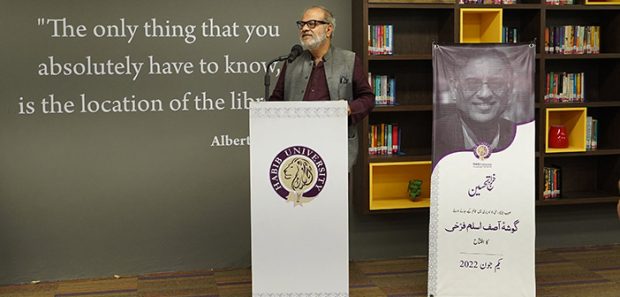 Dr. Ghazal Asif, daughter of late Asif Aslam, while addressing the audience, refreshed his father's memory and thanked the university for setting up a corner of his name in the library as a memorial to his father. "My father was possessive about his collection. He had more than 40,000 books. Some of them more than copy. A portion of collection is with Habib University, I have another portion of it and the other is with the Arts Council," she told the guests.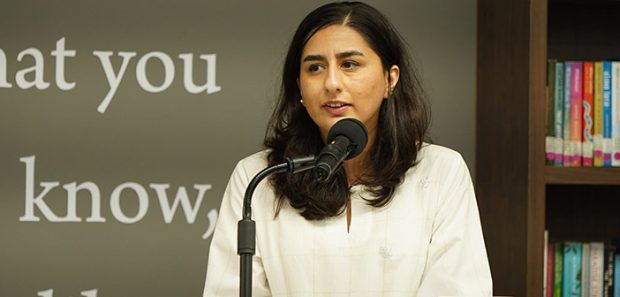 She also unveiled the plaque of Gosha-e-Asif Aslam Farrukhi. The President of Habib University, Mr. Wasif Rizvi, Dean of Faculty Dr. Aamir Hasan, members of Asif Aslam Farrukhi's family and prominent scholars and literary personalities were present on the occasion.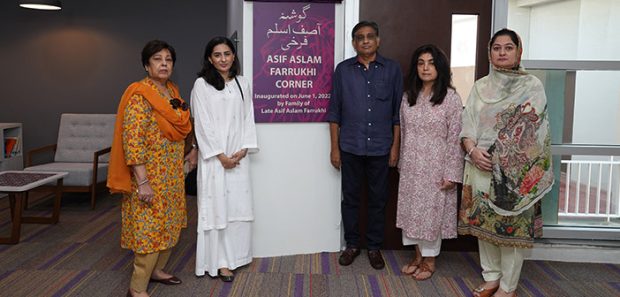 Book launch of Uss Aadmi ki Kami in the memory of Late Dr. Asif Aslam Farrukhi
The second part of the event that was held at the H.M Habib Auditorium, was dedicated to the unveiling of a book called "Uss Aadmi ki Kami" by Inamullah Nadeem, Assistant Professor of Practice, Comparative Humanities, and a friend of Dr. Asif Aslam Farrukhi. Dr. Aamir Hasan, Dean of Faculty, delivered his welcome address. Dr. Ghazal Asif revealed the book and expressed her views.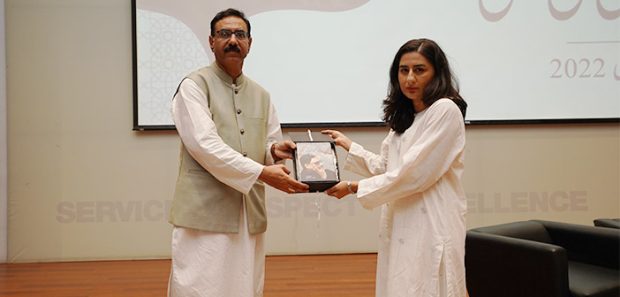 "Perhaps, Asif Sahab loved nothing more than he loved books. His passion, hard work and knowledge are encapsulated in this collection, and it will pass down from generation to generation," said Inamullah Nadeem at the start of the book launch.
Dr. Aamir Hasan remarked, "Asif Sahab was an important figure here at Habib University as he curated the popular Jehan-e-Urdu course, the liberal core curriculum as well as the Arzu Center for Regional Languages and Humanities. He was a mentor to all and his smile alone would bind him to many people."
Dr. Ghazal read out an excerpt from the book that she herself contributed to the collection of essays, "I wrote this a year ago, (my experiences, my stories and my memories with my father) but I can't seem to write more – I have no words, really."
Reminiscing memories of the beloved professor by loved ones
Yusra Afzal, who was also student of the late professor, remembered, "our time with Asif Sahab was beyond just time spent in classrooms. When I think of Asif Sahab, I recall sitting at Burns Road with him munching on Dehli's Dahi Baray when I took his course, Pappu Yaar Tang Na Kar. I recall members of the Araish-e-Khayal club sitting with him in Old Lahore, reciting verses of Faiz Ahmad Faiz, and sitting at Al-Hamra taking selfies. I recall eating aalo k samosay and drinking chai with him and Afzal sahab in the mornings, because this was our Asif sahab."
"For Asif sahab, his students were always his celebrities. I still remember how his eyes would shine and he would break out in the most gleeful smile on our smallest achievements, and this is why Asif Sahab was, is and will always remain in the heart of every student he taught and even the ones he didn't."
Dr. Shah Jamal Alam, Associate Professor, Computer Science, shared some memories of Asif sahab's beginnings at Habib University. "Just when he was about to join in August 2014, I noticed Asif Sahab's books reached his pod before him. And now that he's left us, his books are still there and will always remain with us."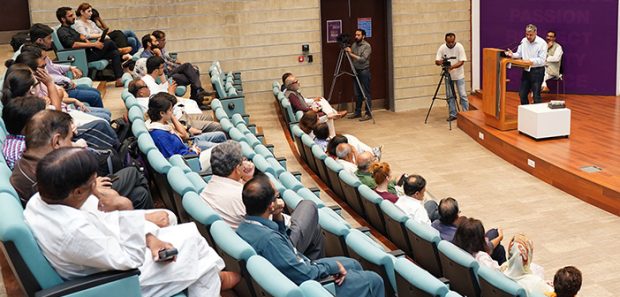 Afzal Ahmed Syed, Associate Professor of Practice, Comparative Humanities, shared that the world of Urdu Literature will never be the same without Asif sahab.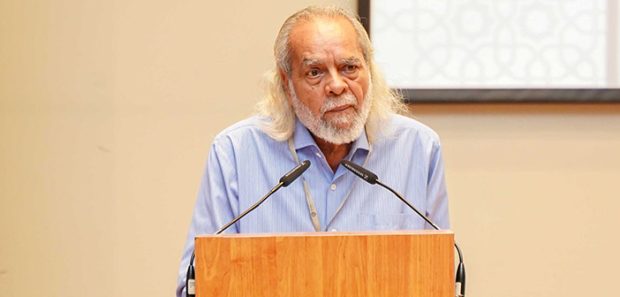 Dr. Nauman Naqvi, Associate Professor in the Comparative Humanities program, said, "his eyes would always surprise me. No one could separate those eyes from the smile that he held. He was always excited to teach every course of the liberal core and would do it so enthusiastically and rigorously – it was remarkable."
The event was also attended by a number of scholarly and literary figures. Pakistani author Amar Sindhu, and poets Attiya Dawood and Dr Fatema Hassan were also present at the event.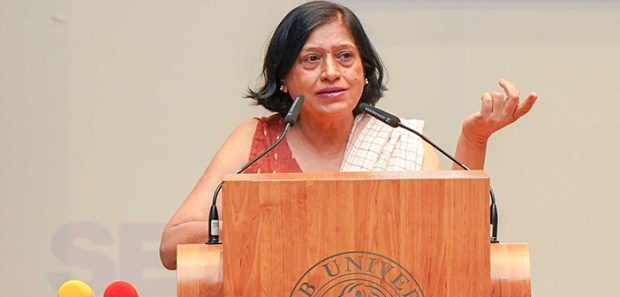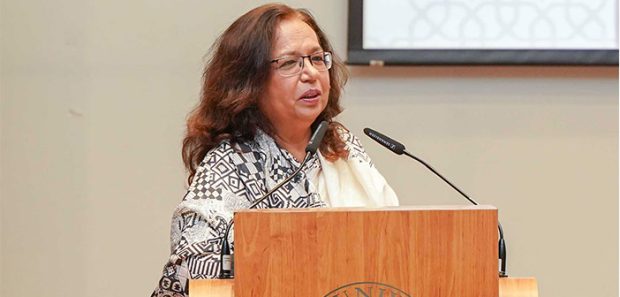 Short story from the collection read by Zambeel Dramatics Readings Group
Later, the "Zanbeel -Dramatic Reading" group read a story by Dr. Asif Aslam Farrukhi called "Cheel Gaari" which was met with praise by the audience. At the end of the ceremony, Dr. Muhammad Haris, Program Director, Comparative Humanities, thanked the guests. The event was attended by a large number of Dr. Asif Aslam Farrukhi's family, friends, students and loved ones.