Despite the difficult circumstances created due to the COVID-19 pandemic, a new leadership for Habib University's student body was sworn in on 4th February, 2021, during the annual HU Student Government (HUSG) Gavel Ceremony.
The outgoing student body transferred the symbolic gavel to the incoming student government at the Amphitheatre in a simple ceremony which was hosted by Student Life. The Dean, Assistant Deans, faculty, staff, members of the outgoing and incoming student councils and other students attended the ceremony while observing all COVID-19 precautionary guidelines.
Dr. Christopher S. Taylor, the Vice President of Academic Affairs and Dean of Faculty, addressed the audience and appreciated the efforts put in by the outgoing HUSG to keep the larger student population united and motivated despite the extenuating circumstances.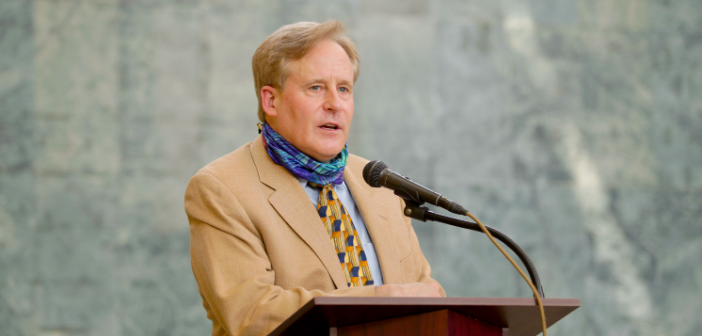 Dr. Christopher S Taylor, Vice President of Academic Affairs and Dean of Faculty, addressing the outgoing HUSG 2020.
"They were very effective in bringing student perspective to the table. They listened carefully to what we had to say; why we were doing certain things. They were the perfect model of good, honest and transparent relationship between the administration of Habib University and the leadership of student government," he said.
He went on to encourage the incoming student body, reposing his confidence in their ability to take on the mantle of responsibility and do justice to it through dedication, hard work, mutual respect and patience.
This year, the successful student government was elected through a referendum as they stood uncontested. With no or limited students allowed on campus, the Office of Student Life paired with the HU IT department and put a system into place for students to vote online.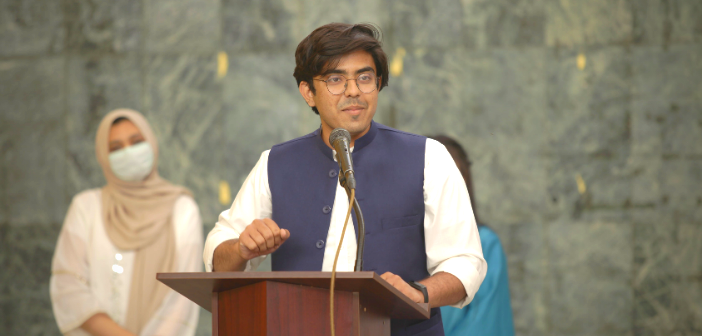 Qazi Talha, the incoming  in his address as the President HUSG assured that he and his team will try to integrate the new batches in to the wonderful community they have been a part of!
The Executive Council for HUSG 2021, comprises Qazi Talha – President, Tooba Fatima – Vice President, Sandesh Kumar – Treasurer, Syeda Amna Arif – General Secretary. The six Cabinet Chairs who won alongside them were Aatika Saleem – Ethos Committee, Adil Majeed – Public Relations Committee, Asad Raza – Events Committee, Fareezah Sidhwa – Rights, Advocacy and Discipline Committee, Iqra Asim – Food and Hygiene and Umema Zehra – Academic Affairs Committee. They were sworn in by Saamena Mazahir Ali, Manager, Programs and Special Projects at the Office of Student Life.
Talha, the President of the incoming HUSG, thanked the student body for reposing their faith in his panel and detailed the manifesto of his council, Qasid – Messenger.
"Habib University is where you are told to not only excel but to excel while serving others. You are told to be beautiful about your thoughts. You are told to serve, to be respectful of each other and you are told to value passion," he said while summing up the philosophy of Habib University and the outlook of his team.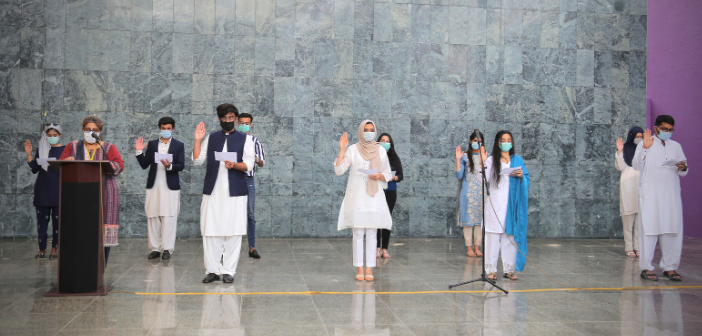 The new executive members of the HUSG, taking oath! (L-R): Qazi Talha, President HUSG, Amna Arif, General Secretary, Tooba Fatima, Vice President, Sandesh Kumar, Treasurer
Earlier, awards were distributed amongst the Executive Council and the Cabinet Chairs of the outgoing HUSG including Anzal Abbas Jaffri – President, Roha Ali Khan – Vice President, Syed Safi Haider Rizvi – Treasurer, Mashal Faraz Shamsi – Secretary, Qazi Talha – Rights and Advocacy, Zuha Sohail – Disciplinary Affairs, Sarah Ansari – Academic Affairs, Bakhtawar Shafi – Food and Hygiene, Hafsa Saad Niaz – Events
Jaffri thanked the Dean Dr Taylor and other faculty and staff for their support during a difficult year.
"What a year it has been; a tumultuous ride of highs and lows, of exhilaration and heart-wrenching sadness. We have been through a lot, not just the four (executive council) of us, but everyone – and it hasn't been easy even on the best of days. But life truly has gone on. We now hope for a kinder, brighter spring," he said, adding that the year was a matter of extreme pride and honor for him and his executive council.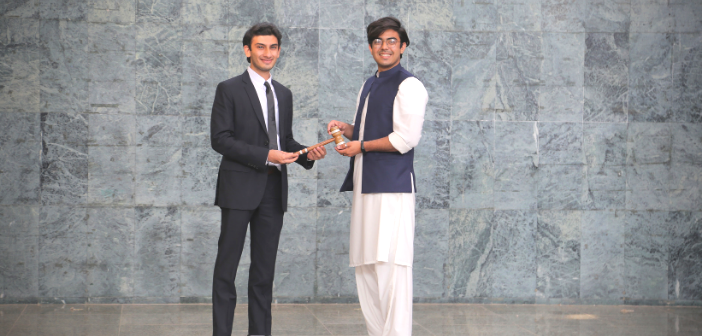 Anzal Abbas, outgoing HUSG president, transfers the symbolic Gavel to Qazi Talha, the incoming president of HUSG.
He recalled how he had campaigned under the banner of 'Ehad' or commitment with values of transparency and accountability, and felt that over a tough year, they had delivered on those promises.
"You create institutions by exploring and setting good examples and those are the examples that people will continue to remember."
The ceremony concluded as Anzal Abbas Jaffri – President HUSG 2020, handed over the symbolical gavel to his successor, Qazi Talha – President HUSG 2021.
Former US president John F Kennedy had said, "leadership and learning are indispensable to each other." In this regard, the Habib University encourages its student-led bodies to take up such roles to inculcate leadership aspects.