In the tradition of welcoming a new batch each Fall, the Office of Student Life arranged a two-day Freshman Fest for the Class of 2024. Amidst the excitement and enthusiasm of stepping into their new 'home' for the next 4 years, the incoming class had to be divided into batches of two in compliance with campus Covid-19 SOPs. Held on two consecutive Saturdays, September 12 and 19, 2020, the Freshman Fest had similar activities planned for both days of the event.
Foreseeing their four-year journey at Habib University and the transitional anxieties new students may have, a range of activities such as leadership sessions, wellness activities, and meet and greet were arranged.
Students, donning colorful masks, began to arrive on campus around 10 am, and were ushered to the Amphitheater by student-volunteers; Yogi Raasti awaited them there with her calming yoga flows. Although the students struggled with some of the stretching exercises, it turned out to be a great icebreaker for the new batch.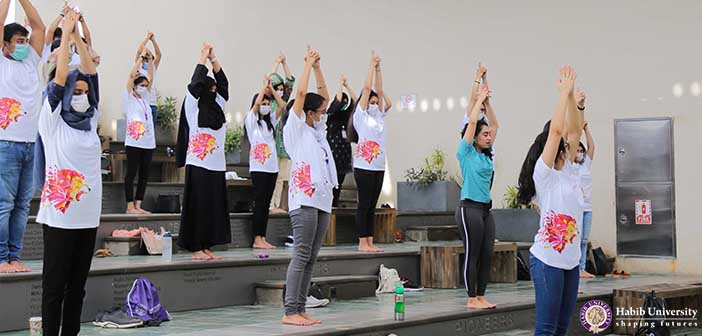 Yogi Raasti (2nd from right, in blue) guiding students
After the meditative effects of the Yoga session, it was time for engagement with speakers from different walks of life; one of the speakers was Shireen Naqvi, a motivational speaker and trainer who gave a talk, "Shape Up", where she shared the benefits of being spiritually, physically and mentally fit in order do well in all aspects of life.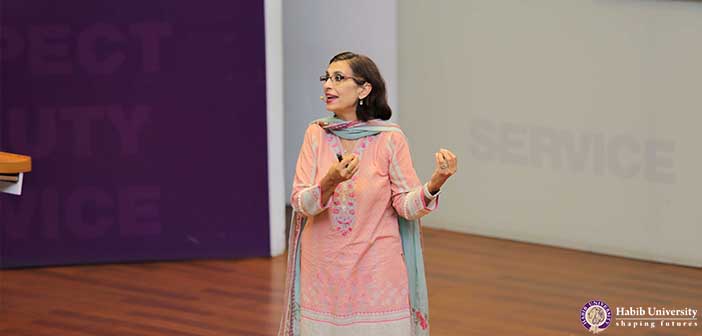 Shireen Naqvi, Motivational Speaker and Trainer at the H.M Habib Auditorium.
Because of her riveting personality and practical advice to students, Class of 2024 only had good things to say about her talk. "The thing that really popped out of Miss Shireen's lecture was the way she said that never let go of your dreams. People are going to say 'if' and 'but', don't listen to them, keep your sight to your knees," said Sumaira Khan, Class of 2024.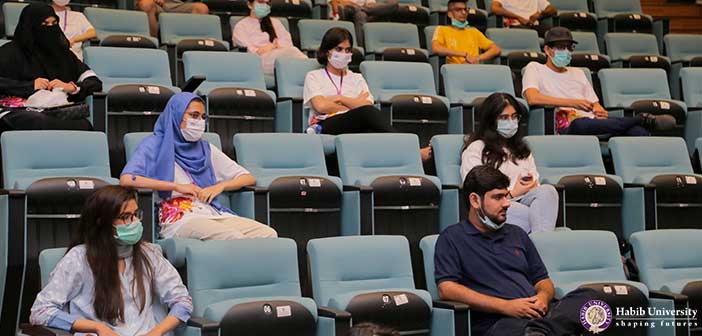 Students in the Auditorium following SOPs.
Ms. Naqvi also led a panel discussion featuring Razia Bano, First National Women Boxing Champion and Ameena Saiyid, founder of Pakistan's first Literature festival and the Adab Fest. This female-dominated panel was particularly inspiring for females in the audience.
Panelists for the second day included Kainat Imtiaz, an all-rounder in the Pakistan's women cricket team and show-host Mahesh Kochra. Moderated by Shireen Naqvi, students were particularly inspired by the determination of these speakers who had overcome obstacles to achieve their unconventional dreams.
Students' enthusiastic applause towards the end of these sessions on both the days testified to the success of the event and was an acknowledgement of the panelists' journey.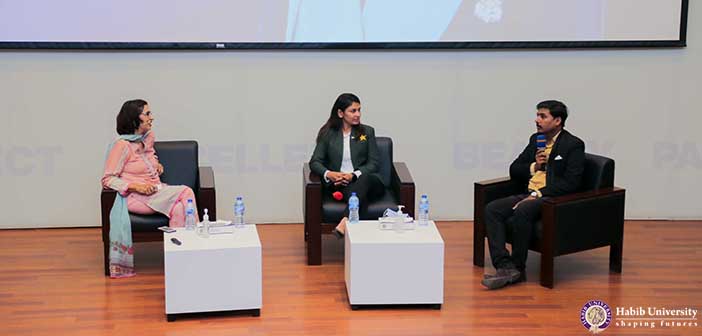 Panelists Day 2: (L-R) Shireen Naqvi, Kainat Imtiaz, Mahesh Kochra
On both days, the students had the opportunity to enjoy a poolside lunch with faculty and alumni. This session of the Freshman Fest was particularly exciting, as students and faculty finally had the opportunity to meet in-person after weeks of online classes. This experience was further enhanced by the presence of the alumni from Class of 2020.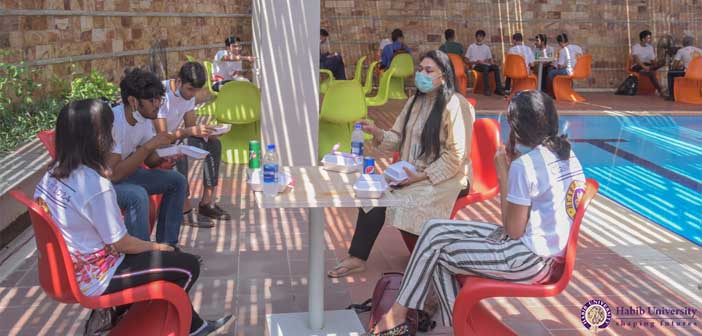 New students with Professor Humaira Jamshed over lunch.
Alumni shared their undergraduate experience with the Class of 2024 while advising and even forewarning them about studies, courses and extra-curricular activities. "We shared a really good time. It was an interesting meeting. We learned new things," commented Sumaira Khan, Class of 2024 on her experience about this meet and greet.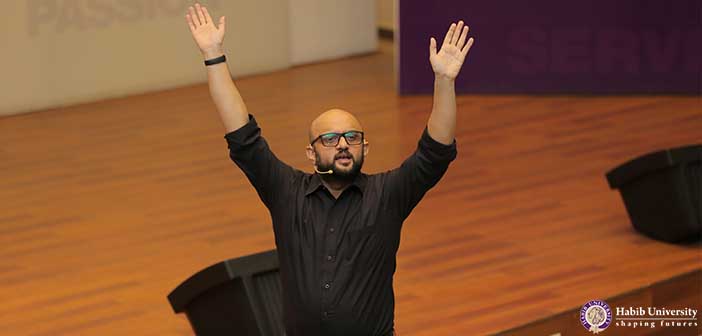 Sohail Zindani, Career Coach leading a session.
A panel discussion, "Moving beyond Crisis", was moderated by Dr. Christopher Taylor, Vice President Academic Affairs and Dean of Faculty with Dr. Rozina Karmaliani, Dean of School of Nursing and Midwifery at Aga Khan University. They spoke about navigating life in a new normal and how to overcome these challenging times. Students asked questions about the best practices to combat Covid-19. Students were given practical advice such as following SOPs on campus and living a healthy lifestyle.
Students awaiting their turn to ask questions to the alumni.
The final session on both days was an invigorating talk by Sohail Zindani, on "Leadership in the 21st Century". He laid out a 7-point plan to become excellent leaders of the future. One of his first points to become a great leader was to have courage and termed the Class of 2024 as 'courageous' for choosing an unconventional liberal arts education at Habib University.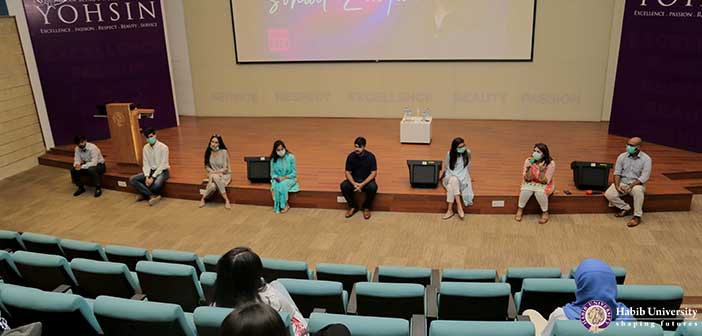 Alumni engaging in a Q&A.
Towards the end of his session, Mr. Zindani called Habib University alumni on-stage to lead an informal Q&A, which could benefit the incoming batch. Students asked pertinent questions such as the importance of GPA in choosing a career path, how to overcome obstacles and approach opportunities in student life. Alumni wished the new batch well and encouraged them to uphold the values of Yohsin during their time at University.
By: Alumnus Ovaish Fatima, batch 2020