How (not) to Teach a Language Course Online during Quarantine?
Your ultimate hacks guide to crack online teaching (and learning) through useful insights from a noob during quarantine.
I am not a very tech savvy person so, when I first learned that we have to tailor the course content to go online, I had panic attacks. I was unsure of how this would work because I am used to teaching in a very interactive way. My students fully engage with the content and the class is hugely dependent on the mood of the students and the candid environment which follows in my classes, it is like my "fashion statement" in the world of academia.
I took my first lecture from the University with oodles of support from the IT department as I lurched towards the end of my first lecture. A couple of lectures later, things became smooth but still there was a lot of IT input. I was fully aware of the fact that I had to take a solo flight because the situation was getting worse and I had to travel to my hometown and had to convene the online teaching from there. Anyway, I took a leap of faith and geared up for my first online lecture at my place and was as anxious as a student taking his first ever Board Exam.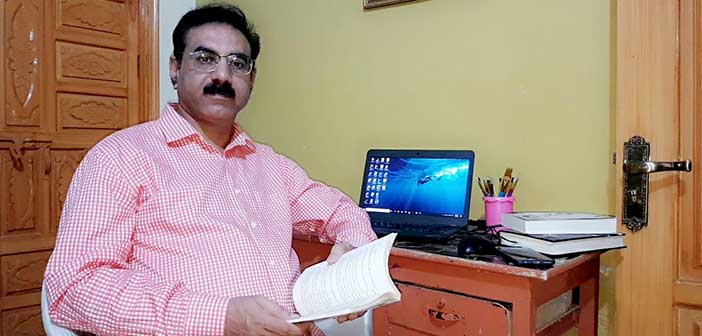 Figure 1: This seminal photo of taking Punjabi Rachna online is clicked by my daughter as I sit befuddled for my first lecture without any IT support.
Everything went so smooth in that lecture; my goodness, I loved teaching Punjabi online. I was not expecting that online teaching could be so interactive and productive. All the clamor, chiming and mischiefs of my students transferred to online experience. All the student's revelry slowly and gradually shifted to online classes as they adapted to online learning experience.
One pleasant surprise was that my students enjoy giving feedback via chat, and my shy students who are usually quiet in class had a lot to say via text messages that were well thought out and very helpful. My sessions are overall going well, and the students are responsive. The chat also helped to ensure every student was following the sessions along with a quick Yes/ No answer when I needed a response from them. This was a relief as I was super concerned on how would I efficiently receive live feedback from the students.
Students want a level of normality, and they really appreciate the online classes. Now they have become an enthusiast of the online learning experience as well. They also attempted to conduct Punjabi Rachna's flagship event "Basant" online. I was wondering how we would carry out such an activity online. The students at Habib are very innovative, they designed an online version of the event. On the D-day, some students started with singing, a couple of songs were heard by an audience in Shahdadpur which is my home town.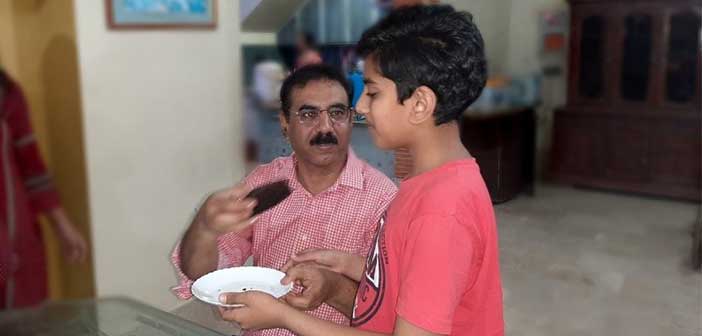 Figure 2:This photo of me offering a brownie to my son as my Birthday is celebrated was taken after Basant fiasco.
I think moments like this, amidst the turmoil and uncertainty caused by Coronavirus, lifts up our mood and gives the energy to fight the pandemic. Therefore, I don't mind giving class time to such activities as they are equally important to pedagogy as other exercises are.
Lastly, I would say some people thought it would be much more difficult for the faculty to work from home – as the students are used to doing their assignments on campus and we teach in a physical classroom but so far, we, as a community, think the experiment is going "surprisingly well". It would be unfair to say that the online classes can replace my in-classroom interaction with my students, which is priceless and I am anxiously looking forward to meeting them all on campus. Let's hope the menace of the Coronavirus fades quickly.
Inamullah Nadeem
Professor of Practice
Arzu Program for Languages & Literature