Cassim and Sadia Shepard visit the Center for Media and Design at Habib University
The Center for Media and Design at Habib University hosted a well-attended talk on February 26th 2016, in which guests Sadia and Cassim Shepherd were invited to share their craft. The talk, titled "The Craft of Storytelling: Narrative Strategies in Film, Writing and Urbanism" featured several of the artists' works, in which they spoke of different multimedia practices and their definitive methods of approach in terms of intellectual translation.
Belonging to a shared background and interest in multimedia as a form of expression, the duo addressed media students in different ways, with Sadia Shepherd speaking of the influences on her leading to her passion for film and writing, and Cassim touching upon the intricacies of using language and the cinematic approach to break stereotypes about Pakistan.
Cassim and I were results of our parent's unusual union, we grew up listening to stories rich with heritage, the culture of Pakistan, and the complex structure of life there.
Heavily influenced by the art-form of storytelling through their mother, Samina Quraeshi, both individuals spoke of how it was these initial, colorful stories of Pakistan that led to their respective career choices.
"It's easy to talk about culture in terms of urbanization, or works of art, opportunities for engagement and so on. It's less common to hear about the constant formation of urban spaces in society as a series of overlapping creative acts, which is what I try to illuminate (through my work)", said Cassim, speaking of his interest in urban innovation.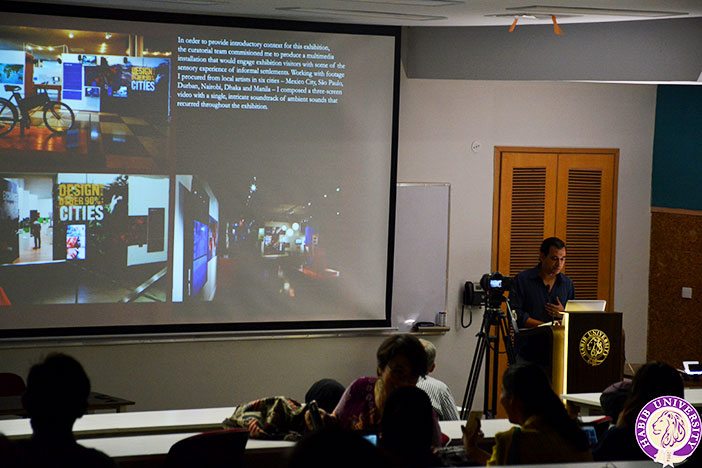 Trained in film-making, Cassim produces non-fiction media about urban architecture, and its relation with culture. He is particularly interested in urban innovation with an emphasis on housing, infrastructure, and the consequent change on cultural institutions. Having received a lot of acclaim for his work, his film and video work has been screened at the Venice Niennale of Architecture, the Ford Foundation and even the United Nations.
His passion for his work was clearly illuminated as he talked of film-making, the processes involved, and the intricacies of narration in documentary films. "Editing as a creative process is integral to my work, because in this art form, the process of creation and revision are separate, unlike in writing or painting. The juxtaposition of images is the task of the editor, and they have to know what to subtract, correct, censor, or revise in order to bring out a flowing narrative", said Cassim.
Sadia Shepard took the stage to speak of her work in literature, and her experiences of Pakistan, and how she interpreted them to project in her works. Speaking about her project, "The Other Half of Tomorrow", Sadia revealed that her aim was to capture the narratives of the women in Pakistan who stand apart, making leaps in their professions by breaking the stereotypical boundaries that are set upon them. She also shared parts of her documentary featuring the Pakistani Women's Cricket team captain Sana Mir, touching upon her fascination of the role of women, and their ability to mold their lives while staying within the bounds of their culture. Her interest in literature was also talked about, wherein she explained the creative process behind her 2008 book, "A Girl from Foreign: A Memoir". She is an accomplished author with her writings having appeared in the Wall Street Journal and the New York Times, Washington Post and Times of India.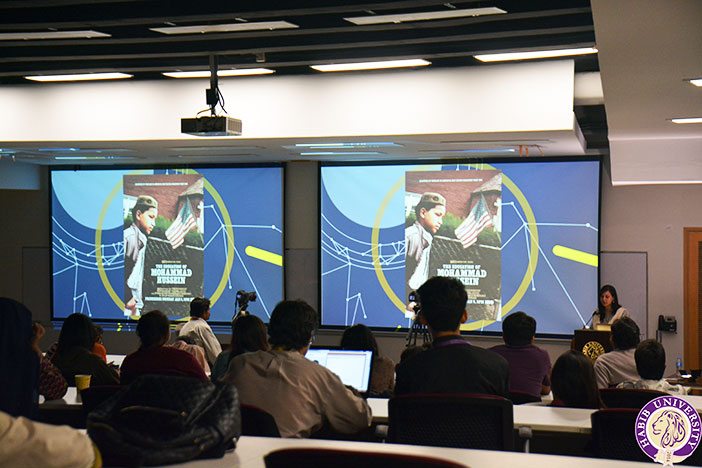 Reflecting on the art form of writing, she said, "I'm fascinated by the montage theory in approaches to storytelling. While the idea is to tell linear stories, the practice of gathering fragments in the field is a vital part of my work, just like Cassim's. You go out and gather materials, words, instances and record them, and build a narrative around it that is coherent and linear. So while writing is very different from documentary film-making, there are still some similarities.