Habib University's Dhanani School of Science and Engineering (DSSE) recently hosted an event, the Undergraduate Research Symposium (DURS2023), on May 16, 2023. This symposium, the first of its kind in Pakistan, exceeded all expectations by providing a remarkable platform for undergraduate students from across Karachi to showcase their research to a broader academic audience. Moreover, it fostered collaboration and networking opportunities among students, faculty, and industry professionals.
Renowned as a center for undergraduate research in Pakistan, Habib University facilitated an arena for students from leading universities in Karachi to present their outstanding work in the fields of Climate and Health, Renewable Energy and Robotics, and Artificial Intelligence for the Betterment of Humanity.
Universities such as NEDUET, Institute of Business Management (IoBM), FAST NUCES Karachi, and Bahria University, among others, highlighted the shared pursuit of knowledge within the academic community.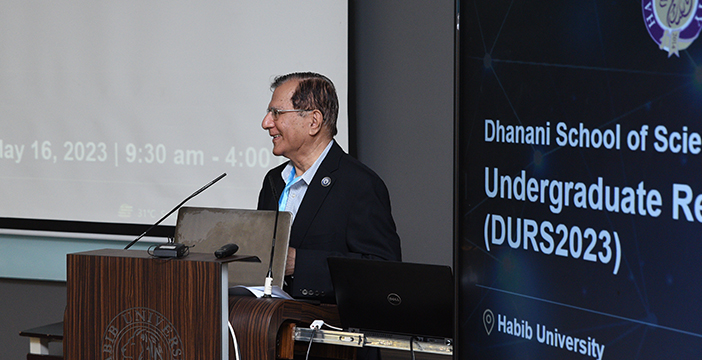 Aside from captivating poster and oral presentations, the symposium featured a captivating keynote speech by Mr. Samir Hoodbhoy, CEO of Data Communication and Control (DCC) Pvt. Ltd. Mr. Hoodbhoy emphasized the significance of research in driving innovation and shaping the future, urging students to persist in their research interests and never abandon their dreams.
A panel of distinguished experts, including Dr. Asim Imdad Wagan, Dr. Atif Tahir, Sameena Shah Zaman, and others, meticulously evaluated the research presented at the symposium. The judges were greatly impressed by the caliber of research presented, resulting in the recognition of three Best Research Awards for Oral Presentation.
The recipients of the Oral Presentation Awards are as follows:
First Place: Project: Mai: A Transformer Based Domain Specific Chatbot For Menstrual Health
Researchers: Shafaq Fatima Mughal, Shayan Amir, Ayesha Asif Syed, Umema Zehra, and Abdul Samad
Second Place: Project: Deep Learning for Short-Range Weather Forecasts
Researchers: Muhammad Iqbal, Sachal Raja, and Humna Waqar
University: FAST NUCES Karachi
Third Place: Project: Explainable Artificial Intelligence for Breast Cancer Classification
Researchers: Maryam Ahmed, Tooba Bibi, and Rizwan Ahmed Khan
University: Salim Habib University
Furthermore, the symposium acknowledged the winners of the Poster Presentation Awards:
First Place: Project: Exploring Robustness Of Computer Vision Models On Adversarial Dataset
Researcher: Batool Ahmed, Hafsa Irfan, Haania Siddiqui, Muhammad Zain Yousuf
University: Habib University, Pakistan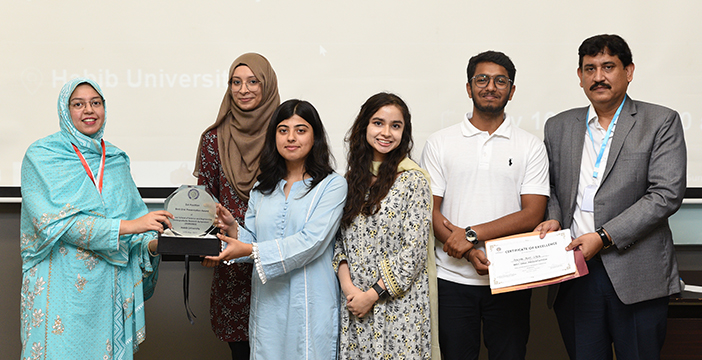 Second Place: Project: Crafting a Healthier Desi Diet: Personalized and Balanced Recipe Recommendations through a Hybrid Recommendation System
Researchers: Syeda Areesha Najam, Shalin Amir Ali, Muhammad Hammad Maqdoom, Sana Fatima, Alisha Momin
University: Habib University, Pakistan
Third Place: Project: IoT based Smart Acoustic and Renewable Energy Harvesting System
Researchers: Misbah Batool, Mariam Nadeem, Fazeel Zafar
University: Bahria University, Pakistan
Undoubtedly, the symposium achieved resounding success, leaving a lasting impact on all participants. It served as a testament to the DSSE faculty and students' unwavering commitment to cultivating an environment of innovation and fostering a community that values undergraduate research.
Dr. Humaira Qureshi, Assistant Dean of DSSE, expressed her pride, stating, "Habib University encourages high level research at the undergraduate level to train students to solve contextual problems. The Dhanani School of Science and Engineering (DSSE) is proud to hold the very first undergraduate research symposium at Habib University which is being attended by over 100 participants. It is an opportunity for undergraduate researchers from all local universities to showcase their work in oral and poster form. The invited judges are experts in their fields and come from top universities to give an unbiased result. As the Chair of this symposium, it is very heartening to see such an encouraging response from students, faculty and the industry."
Habib University is currently accepting admissions for undergraduate programs in electrical engineering and computer engineering. Join us to experience experiential learning, cutting-edge research, and a supportive environment that nurtures your potential.