Habib University's DSSE Public Lecture Series started the month of November with a talk by Mr. Isfandiyar Shaheen, a Silicon Valley entrepreneur and founder of the startup NetEquity, which aims to make affordable internet accessibility for each person across the globe a reality.
A graduate in Economics and Mathematics from Franklin and Marshall College, Mr. Shaheen's career benchmarks include serving as Director on the boards of Engro Corporation and Engro Foods and notably, working to form Towershare among other achievements. He has also collaborated with Facebook to create advanced network technology that will improve connectivity infrastructure and prove conducive to the accomplishment of net equity plans.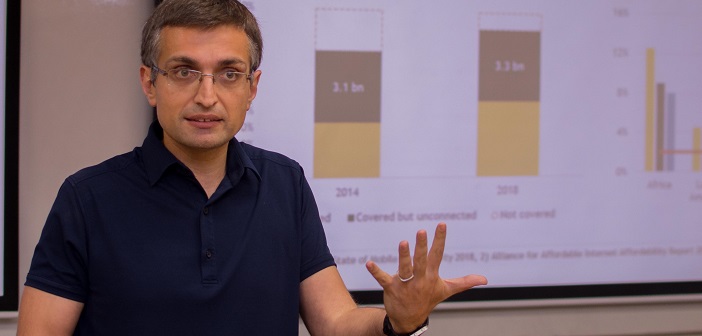 At his talk 'Making High Speed Internet Available for Everyone by April 2028' at the Soorty Hall, Mr. Shaheen presented an ambitious and definite plan to make internet access available to all regions of the world for all communities within a decade. The well-defined and structured plan included explicit technical and infrastructural details as well as a thorough, feasible financing model that would be required for its implementation by the set deadline.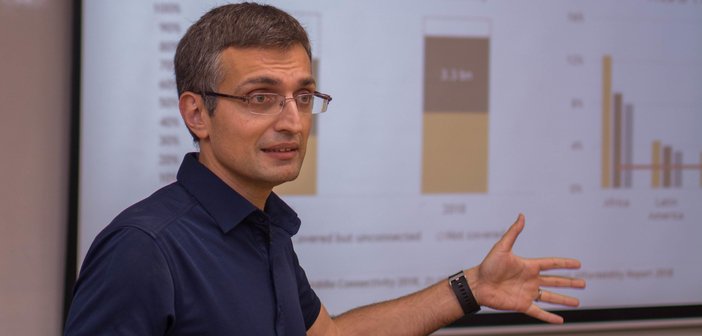 Mr. Shaheen began his lecture by first identifying the problem of internet access disparity and how the, "availability of internet is restricted for a large number of groups, mostly in the lower income classes and specifically for rural inhabitants, in the context of Pakistan." In an age that is increasingly reliant on technology, which in turn is dependent on internet connectivity, people without access remain disadvantaged.
Making the internet accessible to all a priority is a sure way of ensuring equal progress for the human population. For this purpose, Mr. Shaheen envisions internet accessibility as a public utility, distributed uniformly at high quality through efficient and affordable means. He finds a fitting solution in fiberizing networks and connecting them to the overhead electric grid.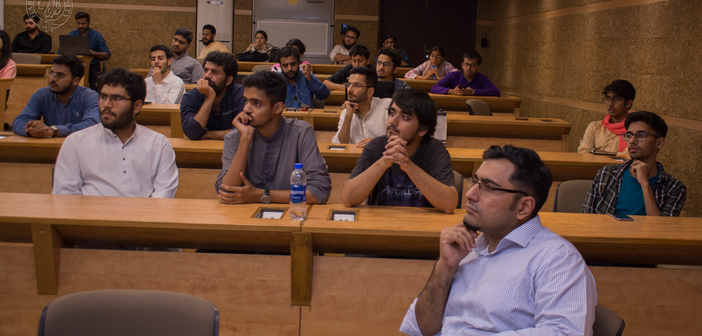 In practical terms, Mr. Shaheen diagnosed the problem of network disparity in the current flawed system of providing internet access.  He explained that telecommunication companies struggle with the issue of low returns to investment in delivering coverage to rural areas. "Primarily affordability, but also other reasons like low literacy and awareness stagnate the number of users in rural areas."
Disparity lies between the broadband coverage implemented and maintained by telecommunication companies and real internet accessibility. The solution to this lies in providing internet at a lower, affordable price without compromising quality of service.
Mr. Shaheen emphasized the benefits of using fiber optic as the main means of transmitting bandwidth, as it has the highest capacity amongst all existing mediums. The genius of his master plan lay in deploying fiberized networks along the electric grid and allow open access to fiber strands, so that telecom companies are incentivized through surplus of bandwidth to compete in expanding accessible coverage.
For budgeting the ambitious project, he proposed profitable business models that involved open sourcing, accessing the Universal Service Fund (USF) and collaboration of different organizations, with tower sharing between telecommunication companies being an efficient scheme. A feasible strategy that would lead to cost reduction with every additional internet would also prove efficient and profitable.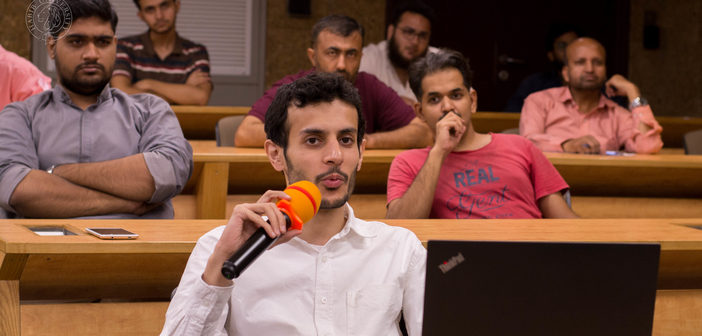 Mr. Shaheen's aspirational and, what he himself saw as, an eccentric plan intrigued the audience through its unique brilliance yet promising achievability. While discussion is underway with stakeholders in Pakistan, the NetEquity project has already been assented to by the South African government.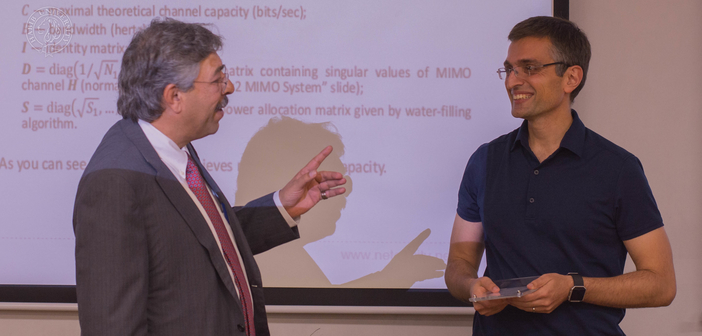 With his driven motivation and passion to solve seemingly deadlocked problems, Mr. Shaheen made it easier to conceive the possibility of a fully connected Pakistan by 2023, where excess of internet access is conducive to impressive technological, social and economic progress. In another five years, by 2028, the enthusiastic entrepreneur believed the entire world would be fiberized and successfully utilizing the internet.