To commemorate a unique commitment and collaboration that began over a year ago, Habib University on October 1, 2019, held a gathering to celebrate the first anniversary of the Dhanani School of Science and Engineering's inauguration.
Attended by DSSE students, faculty and the larger HU community, the event was in acknowledgement of the generous philanthropic support that the Dhanani Family – a successful entrepreneurial family based in Houston, Texas –have shown for Habib University and its vison to bring a transformative change in higher education in Pakistan.
At the opening, Assistant Dean at DSSE, Dr. Anzar Khaliq addressed the gathering and explained how initially the idea of creating a Liberal Arts and Sciences university was seen as the "craziest experiment in Pakistan." He said that despite initial difficulties, the support the University received from the local community was heartening and inspired people involved into believing that they were doing the right thing.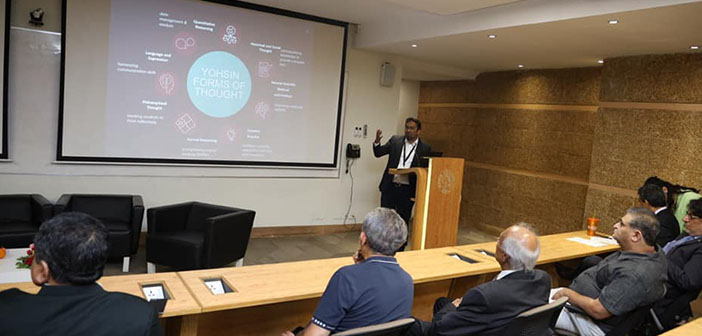 Dr. Anzar praised the Dhanani Family for building on this initiative and for their generosity in helping Habib form a community of supporters that has allowed the University to become "a global platform."
Following Dr. Anzar's remarks, members of the Dhanani Family —including Mr. Mohammed Ali Dhanani, Ms. Aliya Dhanani, and Mr. Usman Dhanani— joined a panel discussion which was moderated by the Vice President Academic Affairs and Dean of Faculty, Dr. Christopher Taylor.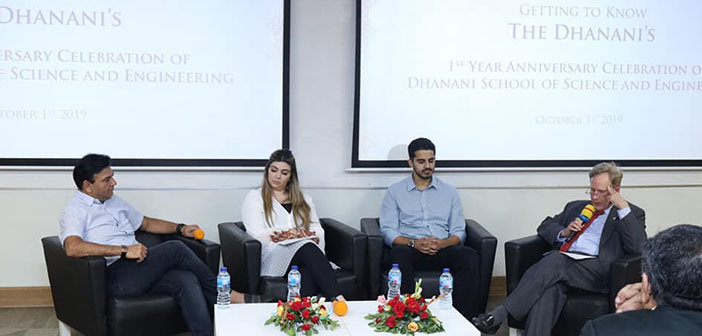 During the interaction, Dr. Taylor touched upon issues related to ideas, vision and leadership at Habib and asked Mr. Mohammed Ali Dhanani what he regarded as the most important qualities required for leadership.
In his reply, Mr. Dhanani said that when building any institute, two qualities were vital above all else; skill and will. "Skill is something that you can acquire. However, it is the will that one has to mold within," and that "nothing can replace a strong work ethic to inspire others to follow your example."
Moving the discussion along, Dr. Taylor then asked Ms. Aliya Dhanani and Mr. Usman Dhanani for their advice to students on how they should pursue their aspirations. In response Ms. Aliya Dhanani urged students to be dedicated to their work and strive towards finding their own paths in life.
Mr. Usman Dhanani expanded on that point by speaking about his own experiences as a university student, where he worked hard and was focused on what he wanted to accomplish. "I used that focus when I later became involved with Habib University and became captivated by its long-term vison," he explained.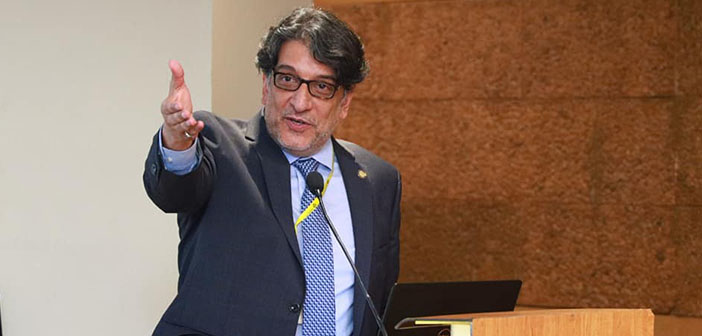 President Wasif Rizvi himself elaborated on this when he came to the podium to speak later on. "When I think of where we started and how far we have come in the past three to four years, it almost seems like a surreal experience," he said, paying tribute to the Habib Family for setting the University's foundation by making the largest private donation for a higher education institute in Pakistan's history.
Giving the example of private institutes in the US, such as Harvard University and Yale University, Mr. Rizvi explained that building a university is a unique cause and that it can only be a world-class institute when it is co-authored by the community. "I cannot express my gratitude to the Dhanani Family for helping to prove my theory correct," he said.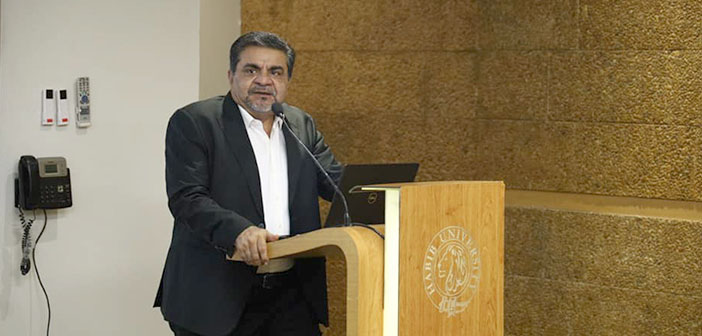 Mr. Shoukat Dhanani then addressed the gathering and said that he regarded Habib University, its students, and faculty as a passion and that he was determined to help take the institution to even greater heights.
"I regard myself as truly being fortunate to be part of the story of this university," he proudly stated and that he also regarded Habib University as, "The best investment by far that I have ever made in my life."
After Mr. Dhanani's gracious remarks which concluded the event, members of the Dhanani Family were invited onstage to cut a cake to mark the occasion and in acknowledgement of their co-authorship of a unique institute.