Media is a critical element of any society. In a country like Pakistan the role of media can at times leave many questions unanswered about its veracity. Habib University lays a strong emphasis on the growth of discourse and thought on issues of particular importance to Pakistan. In order to further this objective, Habib University hosted the session, "Critical Thinking in Media – Myth or Reality?" discussing how crucial the use of critical thinking has become in Pakistan's informational landscape.
The session enlisted distinguished panelists, namely, Ms. Amber Rahim Shamsi, Director of The Center for Excellence in Journalism, IBA; Owais Tohid, senio r journalist, writer and anchorperson, Kamal Siddiqui, Director News at Aaj TV; and Wusat Ullah Khan, senior journalist and anchorperson.  Ms. Aqsa Junejo, Assistant Director, Marketing and Communications department at Habib University, facilitated this interactive discussion.
Drawing on some ground breaking insights, Mr. Wusat Ullah Khan underlined the factors that thwart us from being critically aware saying, "Society creates boundaries for younger individuals, and limit their thinking with the practice of keeping every quantity absolute." He also emphasized on the indispensability of questioning; "Questions have the power of shaking the foundations of state."
As the premier Liberal Arts institution, #HabibUniversity lays a strong emphasis on the growth of critical thought. To further this objective, Habib University hosted the session, "Critical Thinking in Media – Myth or Reality? enlisting notable journalists. pic.twitter.com/TARKtYEWd2

— Habib University (@HabibUniversity) October 21, 2022
To a question regarding, why media literacy has been unable to substantiate the role, especially in times of information warfare, Mr. Owais Tohid pointed out, "If there is no critical thinking how would you be able to evaluate whether the news is true or fake, real or fabricated?" He further highlighted, We, as a society, don't have the culture of asking questions, and this is what is also permeating in Pakistan's media," referring towards the increasing polarization in Pakistan.
During the session, which encapsulated Habib University's belief in tapping into all the possible ways of challenging preconceived notions and debunking myths, Ms. Amber Rahim Shamsi underlined the role of critical thinking in Media to make it more transparent and accountable, "Media is an institution on which the masses rely for the sake of awareness to avoid ambiguity in these times of misinformation and uncertainty." Ms. Shamsi further said, "Since years, our education system has been stagnated when it comes to critical thinking, and as a consequence, we don't have human resources which are capable of challenging indoctrination."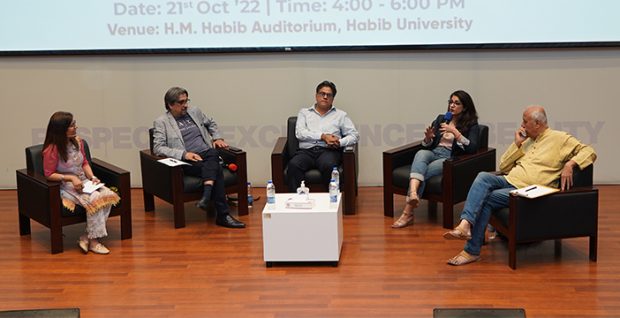 Mr. Kamal Siddiqui added, "In our universities, and especially in the public sector universities, the discourse of critical thinking has been actively discouraged," pointing out the dismal scenario of Pakistan's education, and the increasing trend of indoctrination among individuals.
The session was attended by a diverse audience, including students from several universities as well as educators, writers, and other notable individuals from different professional fields.