Mr. Mohsin Nathani, the President of HabibMetro Bank and a strong supporter of Habib University, visited Habib University campus with his family on May 6, 2021. The visit marked a personal contribution Mr. Nathani decided to make to Habib University, supporting the provision of accessible higher education to the talented and promising youth of Pakistan.
Mr. Nathani and his wife, Mrs. Zoya Nathani, and their son, Mr. Haider Nathani met with the leadership of Habib University in the Executive Room, and listened attentively to President Wasif Rizvi's presentation on how Habib is transforming the higher education landscape in Pakistan.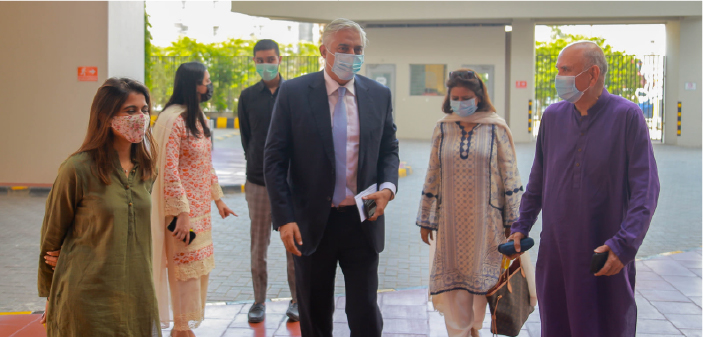 "The background is that a very small percent of Pakistanis go to universities in the first place," President Rizvi said. "Students who are from the population of 18 to 25, only three percent of them get into any kind of university."
President Rizvi explained that the purpose of Habib University is to specifically provide access to a strong liberal arts education to high-merit students from disenfranchised economic backgrounds in Pakistan, covering a significant portion or the entirety of their tuition fees at Habib.
"With the nature of our engagement, and openness, and leadership, we have been able to make an impact with just three batches so far," President Rizvi said. "With the best employers hiring them, or the best graduate schools welcoming them."
Habib University's distinctive approach to education is rooted in the liberal core, which is the underlying requirement for all students, whether they choose to pursue communications, sciences, or humanities. Dr. Chris Taylor, the former Dean of Faculty, discussed the importance of the liberal core in nurturing empathetic, engaged citizens.
"The liberal core was inspired by leading global higher education institutions like Stanford," Dr. Taylor said. "Habib has contextualized that kind of education to Pakistan and South Asia."
Yasmeen Bano, the Director of Student Success, elucidated the accomplishments students have made thanks to the contribution of supporters, who believe in Habib's vision of quality higher education.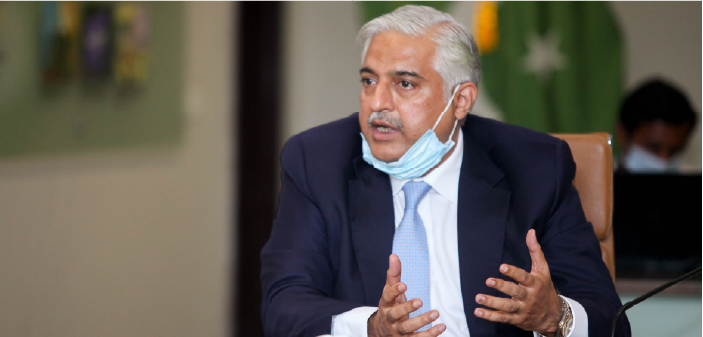 "We are ensuring that when students are at Habib, they are successful," Yasmeen Bano said. "When we say student success, it's not just limited to academic success or getting a high GPA, but getting students to go beyond their comfort zone and explore academic opportunities, and take intellectually challenging projects."
The Nathanis expressed their enthusiastic support for Habib University's rigorous academic programs and focus on leadership, and especially appreciated the generous scholarship and financial aid programs Habib offers to students.
"What impresses me about Habib University is that you recruit students from local institutions who have less access to good quality education, and you give them an opportunity," Mr. Nathani said. "You've made higher education possible for our country's talented young people, who otherwise would not have been able to afford it."
Both Mr. Mohsin Nathani and Mrs. Zoya Nathani pursued higher education on scholarship themselves, and Habib's mission to provide access resonates personally, Mr. Nathani said.
Habib University is a community-owned institution thanks to the efforts of dedicated supporters like Mohsin Nathani, who understand the importance of access and liberal arts education in Pakistan. Mr. Nathani commented on Habib's recently-launched giving app, which expands Habib's community and allows people from all backgrounds to support the university.
"Through the app, we can cater to anyone," Mr. Nathani said. "If someone wants to donate 1500rs. or $10, they can. Habib will expand its universe of donors, and you will have a lot more supporters, friends, and people who will follow the university, and believe they made a difference."