Habib University has always valued its global partnerships with some of the world's most renowned institutes of higher education. As part of the University's transnational approach to a dynamic pedagogical experience, Habib has formed relations with distinguished international academia to facilitate global learning opportunities for students, and to provide collaborative opportunities for its faculty.
One of HU's faculty members was recently given an opportunity to experience this transnational and collaborative development during a Faculty Exchange Program in the United Sates.
Dr. Waqar Saleem, an HU Assistant Professor, Computer Science at the Dhanani School of Science and Engineering (DSSE), recently went to Pitzer College as a Visiting Faculty, which along with Harvey Mudd College, are part of the Claremont Colleges consortium.
The 7Cs, as they are popularly known, are seven very selective institutes of higher learning located in Claremont, California. They comprise of five undergraduate colleges— Pomona College, Scripps College, Claremont McKenna College (CMC), Harvey Mudd College, and Pitzer College — and two graduate schools — Claremont Graduate University (CGU) and Keck Graduate Institute (KGI).
The exchange program is built upon a Memorandum of Understanding (MoU) Habib University and Pitzer College signed in 2016 for a collaborative partnership covering several activities. The agreement included a provision for 'Faculty Exchange and Collaboration', enabling faculty from both institutions to participate in mutually agreed-upon projects and exchange programs.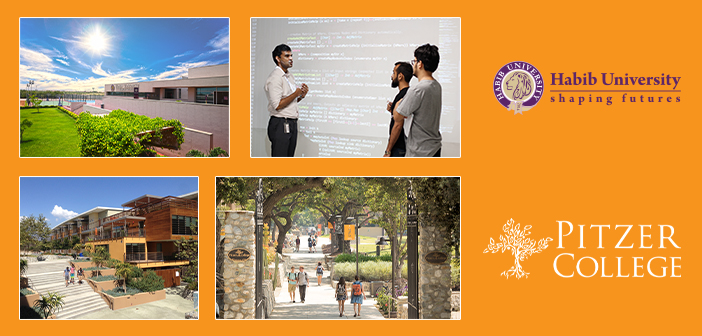 Habib University President Wasif Rizvi, Ms. Tatheer Hamdani, Director of Office of Global Engagement, and Dr. Nigel Boyle, Interim Dean of Faculty and Vice President for Academic Affairs at Pitzer College, are amongst those that that have been involved with this program from the beginning.
Dr. Waqar spoke warmly about his experience teaching Computer Science courses at Pitzer and the opportunities that were provided to him over there.
"I felt a great deal more responsible in my cause of preparation because over there I did not have an administrative role, I was simply a teacher…this was a very liberating experience for me," he said.
Dr. Waqar previously also visited Texas A&M University in College Station, USA where he taught a course in the Fall 2013 semester and attended several seminars and workshops at the Center for Teaching Excellence. In his interactions with various Texas A&M faculty and staff, he gained insight on pedagogy, program learning objectives, curriculum and course design, sustainability and technology in class lectures.
He paid tribute to the warm and receptive attitude of the students and faculty towards him and the immersive environment in which he was working in. He also spoke fondly of the support and hospitality he received from Dr. Nigel Boyle, Pitzer's Interim Dean of Faculty, and Dr. Maria Klawe, President of Harvey Mudd College. Based on this recent experience, he is hopeful that the exchange program between HU and Pitzer will now also include student exchange, and said that relations between the two institutions are going very well.
Dr. Waqar emphasized how his own experience at Habib University and its transdisciplinary approach towards higher education had helped prepare him for the task of teaching at Pitzer. "The students there are very focused and the environment gives a great deal of freedom for faculty as far as the syllabus is concerned and what needs to be taught," he explained.
He said that the Computer Science students there are very up-to-date with the latest innovations in their field, primarily because they are located in California, which is the global hub of the IT industry.
"Representatives from various companies send speakers to the colleges where they build connections that will help many of the students get internships at these companies as well as job openings, once they graduate and enter the job market. The faculty also publish their works in related fields, after which companies get in touch with them," Dr Waqar said.
Based on his experience, Dr. Waqar said that this model can be emulated by Habib University, as closer links should be built with local companies, local industries. "This has been the model set by Harvey Mudd, which we at Habib University are also seeking to emulate," he said.
He said that Harvey Mudd students are far more focused on Computer Science and are very tech-oriented. On the other hand, Pitzer is more Liberal Arts and Humanities centric, with students very socially conscious and more ready to participate in gender issues and other social issues such as mass incarceration of minority communities.
An example he gave was a program that Pitzer students participate in where they attend a class with prison inmates, as this compliments their experiential approach towards learning. He explained that similar programs related to this can be found in Latin America, China and other parts of Asia. The purpose of this is to let students be in an environment in which they can experience the life of an incarcerated person and gain more social consciousness.
"This social consciousness and empathy towards others that I saw amongst students, is very similar to HU's own Yohsin values of respecting others and helping to serve communities," he explained.
Away from his teaching responsibilities, Dr. Waqar also spoke about how much he and his family enjoyed spending their time in California and how they visited museums, parks and observatories, which was a great thrill for all of them.