The British Deputy High Commissioner Karachi, Mr. Mike Nithavrianakis visited Habib University on Thursday August 29, 2019, where he was warmly welcomed on campus by Vice President Academic Affairs and Dean of Faculty, Dr. Christopher Taylor and the President's Chief of Staff, Ms. Tatheer Hamdani.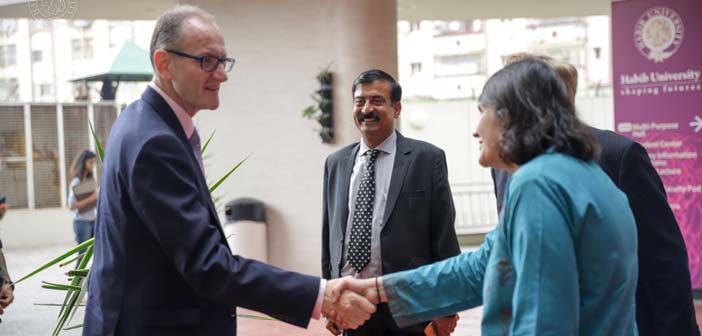 Mr. Nithavrianakis is a career diplomat who joined the Foreign & Commonwealth Office during the 1980s. He has held postings in a number of countries such as Malaysia, Russia, Ghana, Saudi Arabia and Greece. Mr. Nithavrianakis, who is also Britain's Trade Director for Pakistan, was accompanied by Ms. Sumera Naveed, Senior Trade Manager at the Department for International Trade, who was part of the visiting delegation.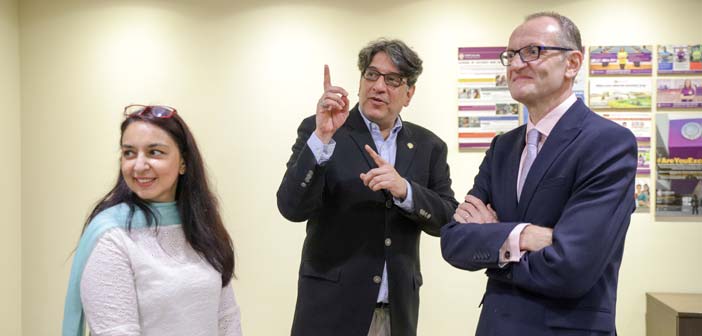 Upon his arrival at the University, Mr. Nithavrianakis held a meeting with President Wasif Rizvi and Dr. Christopher Taylor where he was explained about Habib, its mission to bring about a transformational change in Pakistan's higher education landscape, and its unique curriculum, which is a synthesis of the Liberal Arts and Sciences. During their meeting, President Rizvi enlightened Mr. Nithavrianakis about how the University seeks to provide students with the best possible opportunities to reach their full potential, and to become responsible members of society with strong ethics and a civic sense of duty.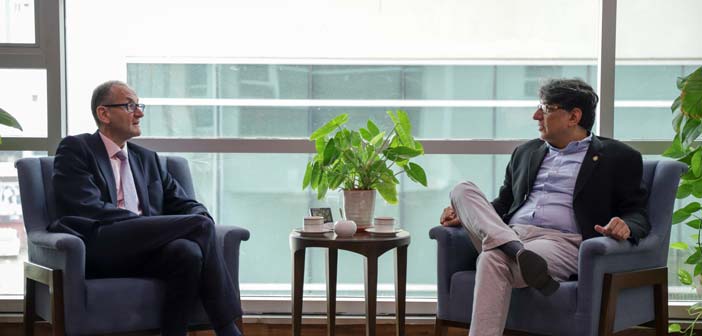 The British Deputy High Commissioner was also told about the various facilities, community services, learning and project spaces at Habib, and how that provides students with a unique pedagogical environment to develop and grow into engaged citizens with a global perspective on important issues.
Following their meeting, President Wasif Rizvi took Mr. Nithavrianakis on a tour of the Habib University campus, where he explained to him about the importance of its location in Karachi, as well as its beautiful architecture, symbolism, and significance in South Asian culture.
Among the campus locations the British Deputy High Commissioner was shown was the University's Wall of Mohsineen, which enshrines and celebrates the generosity and philanthropic support of Habib's community of supporters and friends.
Mr. Nithavrianakis was also taken on a tour of the HU Library and the space that it provides for students to learn and conduct research during their studies. He visited one of the faculty pods where he met with members of Habib's distinguished faculty, exchanged pleasantries with them and also learned about the University's various academic programs.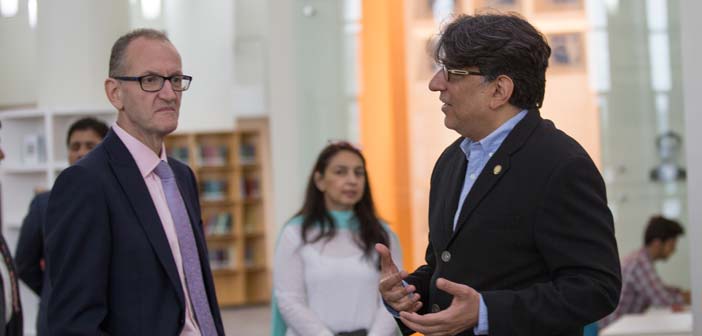 President Wasif Rizvi also showed Mr. Nithavrianakis the University's magnificent H.M. Habib Auditorium that has hosted many important events and seminars at Habib, as well as served as a place where the HU community can come together to strengthen their bonds. Mr. Nithavrianakis also had the opportunity to see HU's cutting-edge film studio, where President Rizvi explained to him the importance of the visual arts as a platform for communication, and the need for students to become more refined in the medium for their education.
Other locations the Deputy High Commissioner was shown included Habib's spacious amphitheater, sports facilities, cafeteria, and the beautiful Zen Garden, a unique place on campus that provides a philosophical and engaging environment for students to sit in.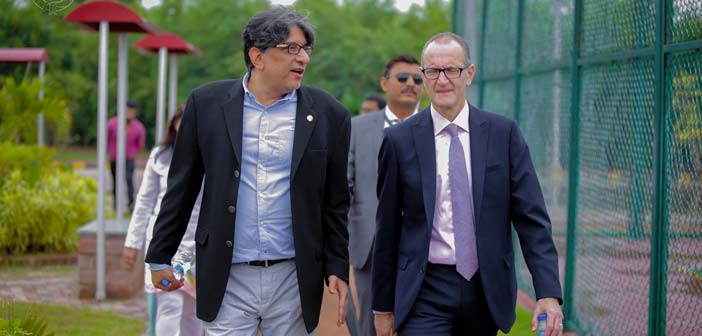 Towards the end of his visit, Mr. Nithavrianakis was presented with a jersey from HU's Dukaan as a memento of his visit to Habib, which he graciously accepted. President Wasif Rizvi then saw the Deputy High Commissioner off before he left and thanked him for visiting the University.