Habib University is honored to receive an endowment gift from the T.R Suterwalla Charitable Foundation UK, naming the 'Suterwalla Makerspace' located inside the Information Commons, a prime space within the University's Library.
The Suterwalla Foundation was established in 1998 by Fakhruddin, Hatim, Siraj, Mansoor and Iqbal Suterwalla the five sons of Mr. Taherally Rehmanji Suterwalla. The family hails originally from the sub-continent, now settled in the UK, but with close ties to their heritage. One of the aims of the Foundation is to provide overseas aid for the advancement of education and health and their generous donation to Habib University is a testament to that.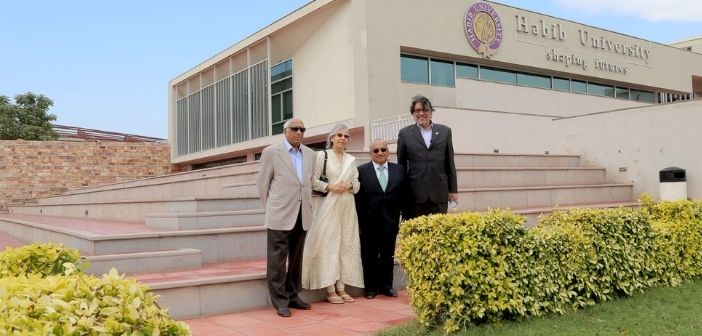 Mr. and Mrs. Siraj Suterwalla visited Habib University in January 2020 and met with President Wasif A. Rizvi and Mr. Muhammad Habib, Member Board of Governors, Habib University.
The 'Suterwalla Makerspace' is a significant part of Habib University's learning environment and adds creative value to the learning eco system of the institution. The 280 sq ft space is designed based on the latest spatial and learning ideas adapted from Stanford University's Hasso Plattner Institute of Design, more popularly known as the 'd.school.' The Suterwalla Makerspace' is most actively used by students as a 'design thinking laboratory', allowing students to conceptualize and brainstorm as a team to address all projects across disciplines, and to facilitate in planning and prototyping the projects further. The space provides students key skills in terms of using to learn construction tools to help with initial prototyping of projects as well.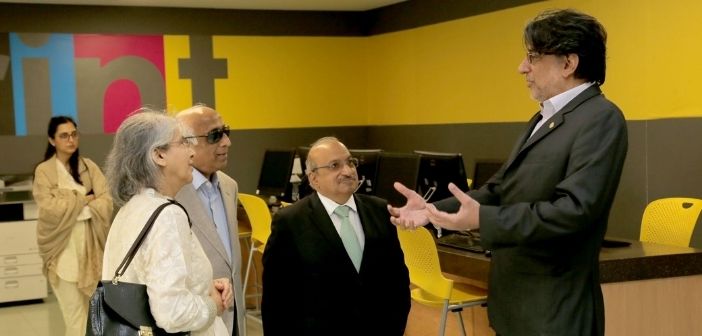 During the campus tour, President Wasif Rizvi explained the importance of the Makerspace as a place for students to conceptualize and brainstorm projects across disciplines.
The generous endowment came post Mr. and Mrs. Siraj Suterwalla's visit to Habib University campus in January 2020, where they had the opportunity to take a guided tour of the campus, curated by President Wasif Rizvi and Mr. Muhammad Habib, member of Habib University's Board of Governors. The visit also provided an opportunity to introduce Habib University's mission of ensuring sustainability through societal co-ownership that brings the wider community together to provide educational opportunity to high merit students, particularly those from compromised socio-economic backgrounds.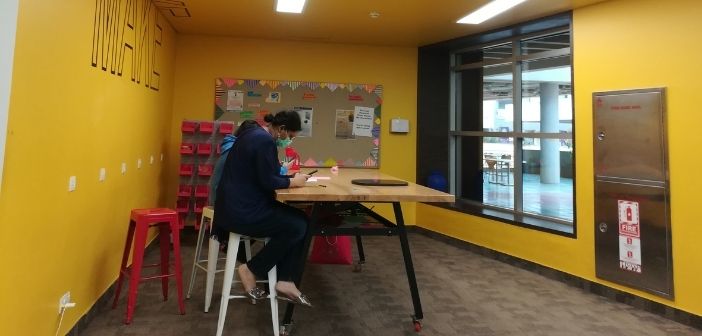 The Library Makerspace
Habib University is grateful to the Suterwalla family and for the start of a wonderful long-term relationship in advancing the cause of higher education in Pakistan.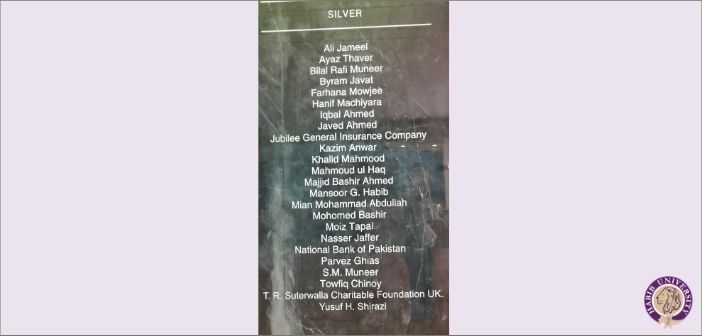 The Wall of Mohsineen acknowledging the gift made by T.R. Suterwalla Charitable Foundation UK.
.