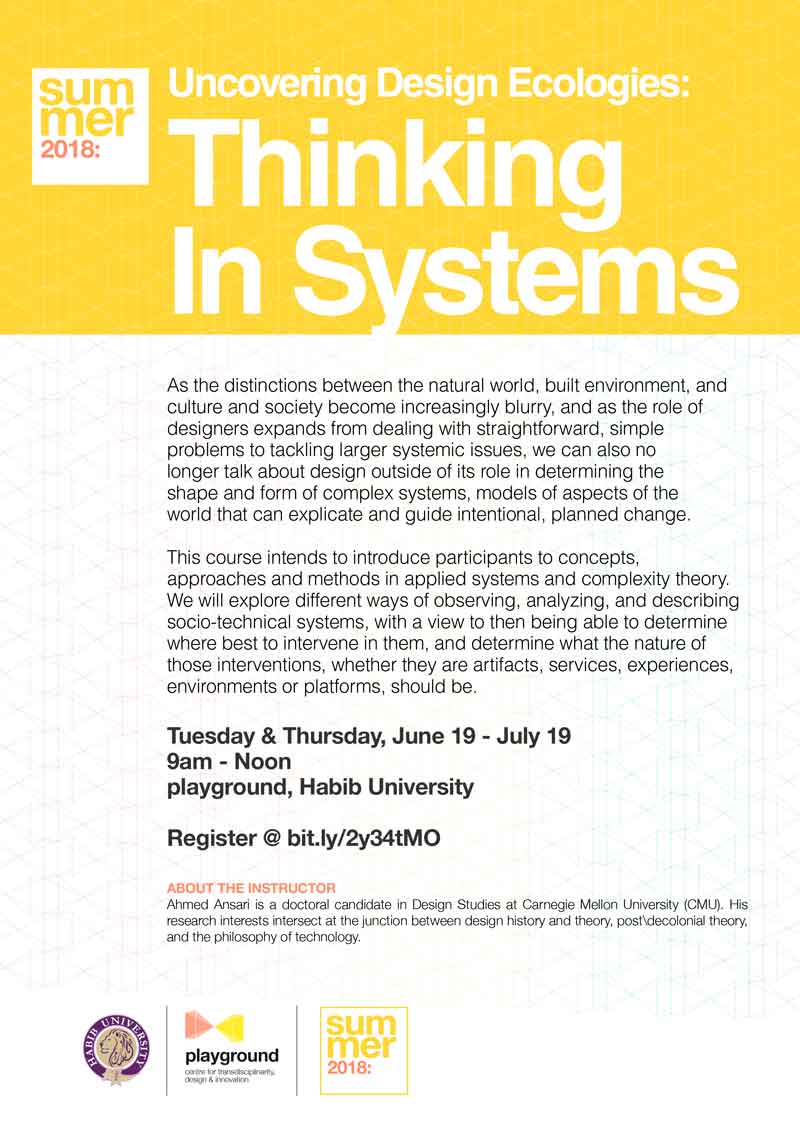 [Best_Wordpress_Gallery id="30″ gal_title="Uncovering Design Ecologies"]
Unlike simple problems like figuring out how to debug and optimize a piece of code or designing an aesthetically pleasing, useful and usable product, wicked problems, like rising inner city crime, rural to urban flight, or the poor quality of lower education, require developing a different kind of mindset and expertise that can deal with the scale, intricacy, and interconnectedness of these problems. As the distinctions between the natural world, built environment, and culture and society become increasingly blurry, and as the role of designers expands from dealing with straightforward, simple problems to tackling larger systemic issues, we can also no longer talk about design outside of its role in determining the shape and form of complex systems, models of aspects of the world that can explicate and guide intentional, planned change.
This course intends to introduce participants to concepts, approaches and methods in applied systems and complexity theory. We will explore different ways of observing, analyzing, and describing socio-technical systems, with a view to then being able to determine where best to intervene in them, and determine what the nature of those interventions, whether they are artifacts, services, experiences, environments or platforms, should be. This course will be divided into two components for every session: a lecture on key concepts and subsequent discussion, followed by hands on exercises where participants will put their newly acquired knowledge to work. By the end of this course, participants should have developed an appreciation for the value of systems thinking, a better sense of how to create rich and useful visualizations and models of systemic phenomenon, where and how to design interventions to tackle wicked problems, and be in a better position to gauge the efficacy of, and take responsibility for, the consequences of their designed actions.
Trainer's Bio:
Ahmed Ansari is a doctoral candidate in Design Studies at Carnegie Mellon University (CMU). His research interests intersect at the junction between design history and theory, post\decolonial theory, and the philosophy of technology, exploring the possibilities of non-western philosophies of technology as the basis for the development of new forms of design practice, with a focus on the Indian subcontinent and late Vedic philosophical thought. He is also a founding member of the Decolonizing Design platform, from which he does frequent and rather fervent critiques of the politics and ethics of contemporary design practice.He teaches both studio and seminar courses in systems thinking, cultural theory, research methods, and design studies in the School of Design at CMU.