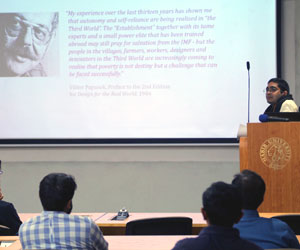 [Best_Wordpress_Gallery id="21″ gal_title="Decolonizing Design"]
In an age of increasing climatic precarity under the excesses of late capitalism, the global design community too has had to respond to the twin pressures of coping with the anthropocene, and the challenge to the intellectual traditions within design discourse, largely informed by 'Western' epistemes and dispositifs, from design practitioners and theorists working from the margins of the global design community located in the Global South.
For a meta-discipline that has undergone monumental shifts in the scope and nature of its practice over the last several decades, and is increasingly dedicated to envisioning and materializing future alternatives to modern systems, structures and institutions, design, both in academia and professional industry, has had a surprisingly unproblematised history with regards to its politics and ethics. The movement to decolonise design practice, a relatively recent development, is one of several that attempts to open up the field to critical political discourse, with the argument that we cannot create alternative visions of futures in their socio-technical aspects without understanding how the design disciplines in the past and present have played a role in creating the modern/colonial world-system.
Ahmed's talk will begin by delving into the history and development of the movement to decolonise design, of which he was and is one of the principal figures, along with the other seven members of what would become the Decolonising Design Platform, and many others. He will touch on the kinds of conversations that were happening design circles in the public sphere from 2010 to 2016, and talk about the shifts in the landscape that have happened since. He will then outline the aims and objectives of the movement manifesting in two large projects: one of the articulation, enunciation, and transformation of colonial discourse within the discipline, and the other, the positive project of delinking from the world-system and deriving plural alternatives through the creation of new forms of practice. Ahmed will end the talk by outlining his own approach, as a design historian and theorist, in pursuing a project of extending 'other' genealogies and philosophies of technology as a means to develop new directions for speculative design.
About the Speaker:
Ahmed Ansari is a doctoral candidate in Design Studies at Carnegie Mellon University (CMU). His research interests intersect at the junction between design history and theory, post\decolonial theory, and the philosophy of technology, exploring the possibilities of non-western philosophies of technology as the basis for the development of new forms of design practice, with a focus on the Indian subcontinent and late Vedic philosophical thought. He is also a founding member of the Decolonizing Design platform, from which he does frequent and fervent critiques of the politics and ethics of contemporary design practice. He teaches both studio and seminar courses in systems thinking, cultural theory, research methods, and design studies in the School of Design at CMU.