Developing a Course for Online Teaching: Pedagogy
What is Asynchronous Teaching?
Asynchronous learning means that the instructor and the students in the course all engage with the course content at different times (and from different locations). The instructor provides students with a sequence of units which the students move through as their schedules permit.
Guide to Asynchronous Teaching
What is Synchronous Teaching?
Synchronous learning means that the instructor and the students in the course engage with the course content and each other at the same time, but from different locations. The instructor interacts with students in real time by means of tools such as Zoom to livestream audio, video, and presentations, hold live classes or meetings, use the chat feature to engage in live conversations, and more.
Guide to Synchronous Teaching
What is HyFlex Teaching?
HyFlex is a course design model that presents the components of hybrid learning in a flexible course structure that gives students the option of attending in-person sessions in the classroom, participating online, or doing both.
Guide to HyFlex Teaching
Designing Your Course
Have a look at a quick guide on deciding the best mode of instruction for your course: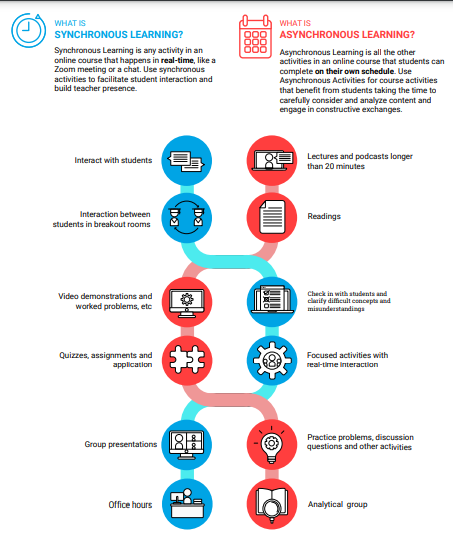 https://www.concordia.ca/content/dam/concordia/offices/ctl/docs/resourcces/synch-asynch-info.pdf
After identifying the mode of instruction for the modules in your course, it is very important to effectively design and manage your course. Helpful guidelines are available on the University of Tennessee, Knoxville website on how to effectively plan for and manage your HyFlex course – before, during, and after your class sessions – main categories are itemized below.

Useful Links:
HU Tutorial: Springing into Online Pedagogy – Designing and Facilitating Online Sessions