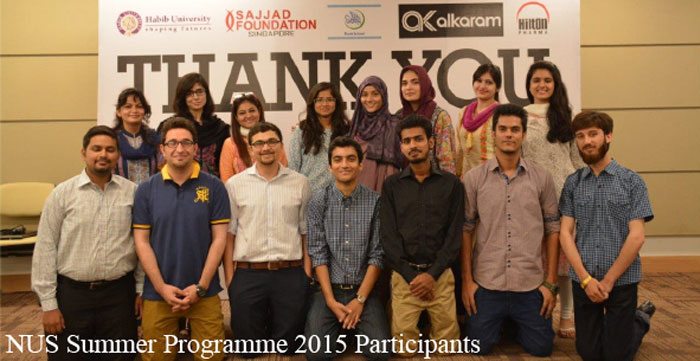 Dated: Sunday, July 5, 2015
Summer Abroad in Singapore: Fifteen Pakistani Students Awarded Sponsorship to Attend NUS Summer Programme 2015
15 Pakistani students have been selected to attend the prestigious summer programme at the National University of Singapore (NUS) from July 5 – July 18, 2015. The programme is completely sponsored by Sajjad Foundation, Habib University, Al-Karam Textile Mills Limited, Hilton Pharma Ltd. and BankIslami Pakistan Limited, and is part of their commitment to provide high quality international experience to Pakistani students.
"Globalization has opened the world and the marketplace is increasingly demanding workers with diverse, multicultural skills," said Shahbaz Yasin Malik, CEO of Hilton Pharma Ltd. "Pakistani students need to be ready to compete in it successfully."
Over four hundred students from around 50 colleges and universities across Pakistan applied for the programme. "It was inspiring to read applications from such accomplished and diverse group of students, said Sadaf Latafat, Program Manager at Habib University, who coordinated the application and selection process. "For many of these students, such opportunities are rare and can be a life-altering experience."
The compact 2-week programme hosts undergraduate students from universities around the world and focuses on entrepreneurship and economic development in Singapore. Participants come from places as varied as New Zealand, Australia, China, Columbia, UK, India, and Pakistan, interact with locals and experience the Singaporean culture. They learn how public policies are formed and gain insights on business practices in the region.
"The opportunity to spend a summer in Singapore will enrich their lives, expose them to alternate perspectives, and better prepare them for leadership roles in Pakistan." said Ali Hussain, Chairman of the Singapore-based philanthropic organization, Sajjad Foundation.
Study Abroad programs, such as the NUS Summer programme, provide unique learning opportunities both inside and outside the classroom and prepare students for academic and professional work in today's dynamic global economy. "Our students, more than ever, need to experience an international education," stated Fawad Anwar, CEO of Al-Karam Textile Mills. "It is one of the best ways to learn about cultures and practices of different societies, and it inculcates tolerance and appreciation of diversity."
The participating students from Pakistan are from geographically diverse areas such as Karachi, Lahore, Mardan, Sukkur, Peshawar and Islamabad. The come from different institutions in the country including Lahore University of Management Sciences, Institute of Business Management, Aga Khan University, Habib University, National University of Sciences & Technology, Institute of Management Sciences, Peshawar etc.
For many of these selected Pakistani students, it is the first time outside their country.
"We believe strongly that financial circumstances shouldn't hinder talented student in our country from gaining an experience abroad," said Mr. Hasan Bilgrami, CEO of BankIslami Pakistan Ltd. "We, along with other beneficiaries, are very excited to assist these bright students in their educational journey."