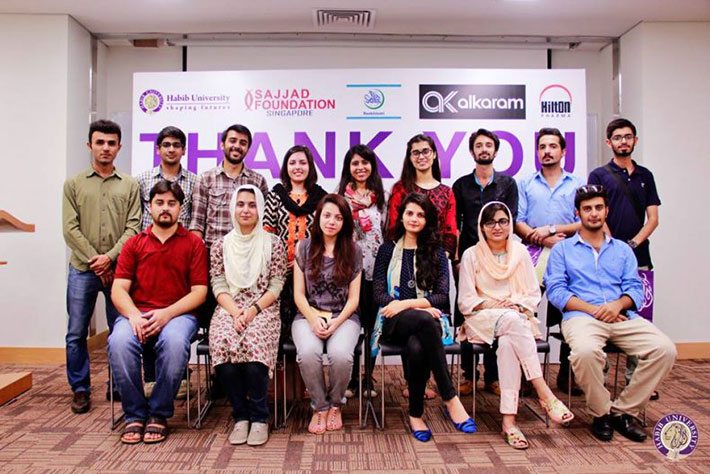 15 Pakistani students, selected by Habib University and Sajjad Foundation, have been sent for an Enterprise Summer Program 2016 at National University of Singapore (NUS). Over 400 students from 50 universities and colleges applied from which the final selection was made after a rigorous process.
The selected students from a diverse group of Pakistanis, from Karachi, Lahore, Gilgit-Baltistan, Sukkur, Peshawar, and Islamabad. They represent various institutes including Allama Iqbal Medical College, Institute of Business Management, Institute of Space Technology, Institute of Management Sciences, Habib University, Lahore University of Management Sciences, National University of Sciences & Technology, Karakoram University, Forman Christian College, and Namal University.
NUS has been conducting this Enterprise Summer Program for a couple of years now. The small 2-week camp, which is currently underway, will culminate on 23rd July. Its primary focus is on the culture of Singapore, social entrepreneurship in Asia, how to create a new venture, pitch your ideas, and marketing strategies.
Singapore is considered a global hub of commerce and finance and has strengthened its position in entrepreneurship as well. This summer program will be particularly helpful for Pakistani students seeking a future as an entrepreneur. The exposure gained from a developed market like Singapore will give them a head start to chase their ideas.