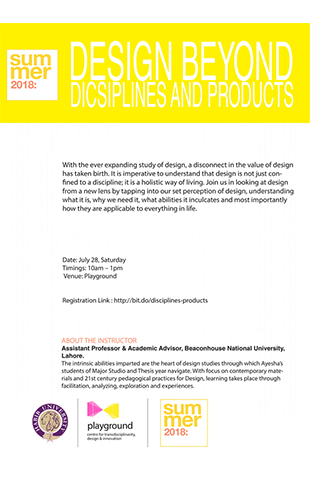 [Best_Wordpress_Gallery id="23″ gal_title="Design Beyond Disciplines & Products"]
Playground invites you to an interactive workshop on Design Beyond Disciplines & Products on July 28 from 10 am till 1 pm, open to all faculty members and students.
Workshop Description:
With the ever expanding study of design, a disconnect in the value of design has taken birth. It is imperative to understand that design is not just confined to a discipline; it is a holistic way of living. Join us in looking at design from a new lens by tapping into our set perception of design, understanding what it is, why we need it, what abilities it inculcates and most importantly how they are applicable to everything in life.
Instructor's Bio: 
Ayesha Ahmed is an Assistant Professor & Academic Advisor in Beaconhouse National University, Lahore.
The intrinsic abilities imparted are the heart of design studies through which Ayesha's students of Major Studio and Thesis year navigate. With focus on contemporary materials and 21st century pedagogical practices for Design, learning takes place through facilitation, analyzing, exploration and experiences.