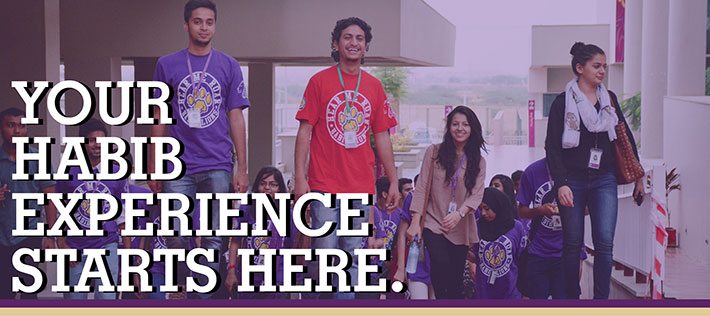 Sign up for orientation!
WHAT IS THE HABIB EXPERIENCE?
The HU New Student Orientation experience is designed to help you have a successful transition to Habib University. The New Student Orientation includes orientation and the Week of Welcome. Orientation is the first step and occurs during the summer, whereas the Week of Welcome occurs in August during the first week of school.
The New Student Orientation is an exciting and engaging week designed to promote your personal academic success and individual development. Informative presentations, small group discussions, academic advising and class registration help you enter the university informed and confident.
HOW DOES ORIENTATION HELP YOU SUCCEED?
Students who actively participate in orientation are better prepared to navigate academic and social life at HU. The orientation schedule is planned to prepare you for your first year at the university. You will have the opportunity to meet other HU students and create your own network before starting classes. You will also learn about various involvement opportunities to help HU feel like home. From becoming familiar with campus to registering for classes, orientation is the experience to prepare you for life as an HU student.
DURING ORIENTATION
Orientation Leaders
Orientation Leaders are energetic students dedicated to providing you with advice, information, and HU's Lion spirit. Throughout orientation, you will be assigned to a small group of Freshmen students. An orientation leader will lead each small group and guide you through the orientation schedule.
Academic Advising
Academic advising is all about you. While enrolled at HU, you and your advisor will work together to develop your academic plan. To ensure that your personal and academic needs are met, you will want to explore your values, goals and career objectives with your advisor.
Your faculty advisor is knowledgeable on many aspects of university life and can provide you information and advice on utilizing the opportunities available on campus.
While working with your advisor
Develop an academic plan for your first semester;
Learn how to be a successful university student;
Become connected to university resources and programs;
Explore major career options; and
Define your educational, career, and personal goals.