Office of Teaching & Learning
CPE (Centre for Pedagogical Excellence) is managed by Office of Associate Dean of Teaching, Learning and Research: The Office of Associate Dean of Teaching, Learning and Research is responsible for overseeing the University's commitment to explore, analyse, create and develop different tools, methods and approaches to knowledge exchange and ensure that faculty are able to design and deliver educational experiences that transcend a typical course design and delivery using the CPAC Model. The Office of Associate Dean of Teaching, Learning and Research works through both the CPE and its existing path-breaking facility for human-centered design thinking, the
playground
to develop pedagogical techniques that augment the classroom experience.
CPE is a central pillar of Habib University's mission. The University's mission statement serves as a public declaration of the institution's values and purpose. Centre of Pedagogical Excellence works backstage in ensuring the fulfilment of these institutional commitments. We serve as nuclei for pedagogical innovation and respond to the growing institutional needs and priorities. CPE ensures that the educational and institutional vision of the university are brought to reality.
To serve as an effective change agent that helps the institution in making both teaching and learning accessible in midst of the growing challenges.
Reinforce excellence in teaching and learning.
To foster an environment that helps both the instructors and students to excel.
To improve upon the existing teaching approaches and introduce new instructional methods that ensure maximal and effective yield
To assist faculty members in adopting new and alternative teaching methods that improve the overall learning experience of students.
To provide them the right tools and resources to ensure the aforementioned.
To create a community for faculty members to contribute, take away and collaborate in redesigning their courses.
To facilitate professional correspondence between faculty members.
CPE is committed towards a holistic approach to teaching by designing content that connects, adopting pedagogy through a student-centered lens, devising inclusive and outcome-based assessments, building communities that go beyond the classrooms and encouraging Transdisciplinary collaboration. We refer to this framework as CPACT. All programming and monitoring structures are informed by this framework whether it is faculty development, peer-reviews, course evaluations, teaching reflections or annual teaching excellence awards.
Content
CPE works to Imagine content beyond disciplines. Break disciplinary silos and imagine knowledge that transcends disciplinary boundaries. Creating content that includes a variety of viewpoints, can provide a holistic view that can help contextualise the depth. This contextualization allows faculty to use new methodologies to develop skills and lay the foundations for new knowledge. Instead of using isolated methods of teaching, the onboarding program at CPE equips the faculty to apply abstract concepts to the everyday world within their classes. Assisting students make these connections strengthens newly acquired knowledge and increases student engagement with learning activities.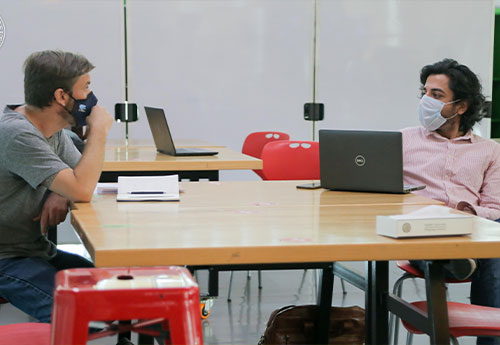 pedagogy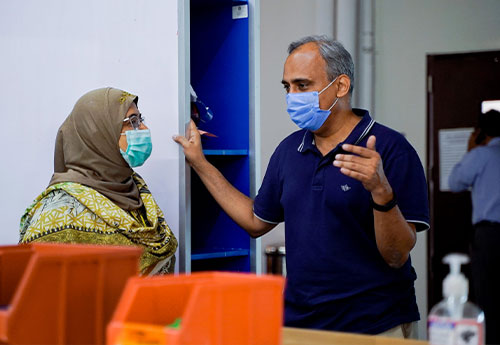 Learning occurs most effectively when different disciplines come together and work collaboratively towards developing a pedagogy that entails the use and integration of methods and analytical frameworks from more than one academic discipline to examine a theme, issue, question or topic. At Habib University, we believe that a thorough understanding of today's real-life problems requires interdisciplinary collaboration not just within the student community, but also within the faculty who are trained to engage with ideas and peers beyond their discipline of expertise.
Assessment
Whether it's online or in person, CPE's onboarding program uses careful design options to develop assessment options that are transparent enough to gauge an understanding of the learning outcomes in a course. Assessment has consistently been one of the most important needs identified in several faculty development surveys, and despite the complexity involved in designing and conducting research, the faculty development program at CPE aims to have a cumulative impact on teaching, including improved assignments. CPE provides insights on creating assessments that are inclusive, encourage learning, connected to the learning outcomes, transparent and provide a constant opportunity to create and reflect.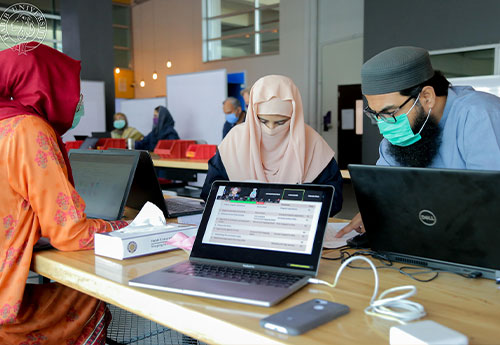 Community
Taking learning beyond the classroom. Imagining a course experience that extends the classroom discussions and inspires knowledge exchange through other platforms or brings people together around ideas, promotes creative and collaborative exchanges.
Transdisciplinarity
It's natural at Habib to think across and beyond disciplines as isolated learning centered around a single discipline is inevitably stifling and would cease to produce rewarding outcomes beyond a certain point. To ensure a deeper and meaningful understanding of the world around us, it is becoming increasingly integral for there to not only be a collaboration between different disciplines but an integration of perspectives across them. Through this fusion of ideas across, inside and beyond all disciplines, one can hope to move past a structure that sustains on dissemination of static knowledge. Time calls for universities to dissolve the segregation of disciplines, branch out from the conventional setting and produce transdisciplinary thinkers. Such thinkers will be better prepared for the pluralistic and complex world out there.