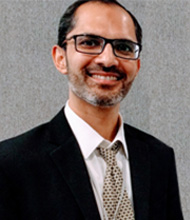 Visiting Assistant Professor, Communication and Design
School Of Arts, Humanities & Social Sciences
Education
PhD Mass Media and Information
, Michigan State University, USA (2013-2018)
MA Health & Risk Communication (Fulbright Scholarship)
, Michigan State University, USA (2012-2013)
MA Information Technology Management
, International Islamic University, Pakistan (2002-2005)
BA Business Administration
, Foundation University, Pakistan (1999-2002)
Teaching Experience
Assistant Professor, School of Media & Mass Communication, Beaconhouse National University, Pakistan
Assistant Professor, Walter Cronkite School of Journalism & Mass Communication, Arizona State University, USA
Graduate Research Assistant, Michigan State University, USA
---
Courses Taught
Social Media Communication Campaigns and Engagement
Social Media Audience Acquisition and Engagement
Communication Campaign Design and Analysis
Digital Audience Research & Behavior
Mobile Phones for Public Health
Social Influence & Persuasion
Persuasive Communication
Media Law and Ethics
Mass Media Theories
The World of Media
Research Methods
Research Interests
Health and Risk Communication
Social Influence and Persuasion
Social Media Marketing
---
Biography
A Fulbright Scholar, Hussain has a Ph.D. in Media and Information (2018), and Master's degree in Health Communication (2013) from Michigan State University (MSU). Hussain graduated from MSU with an outstanding doctoral student award. During PhD, Hussain have worked on health communication research projects funded by the National Science Foundation (NSF), and Robert Wood Johnson Foundation (RWJF). After completing PhD, Hussain taught as Assistant Professor in the Walter Cronkite School of Journalism and Mass Communication at Arizona State University (ASU).
In terms of research, Hussain has co-authored 2 book chapters, 38 conference papers, and 18 peer-reviewed journal articles published in high impact factor journals. The main focus of research is health and intercultural communication. Hussain has also received several grants that includes a $10,000 funding for a study on telepresence robots for healthy aging, another funding to explore nostalgic emotional appeals for smoking prevention ($4000), easing depression through nostalgia ($1800), and summer fellowship ($2500) to develop a timeline of communication history dating back to 3500 B.C.
Hussain is currently a Research Fellow for the 'Recovering Truth' project at ASU in collaboration with The Walter Cronkite School and the Center for the Study of Religion and Conflict.
In terms of industry experience, Hussain has worked with USAID funded international nonprofits on health communication campaigns in disaster hit areas. For example, Hussain worked in Pakistan with International Rescue Committee for mother and child heath campaigns (2008-2010). During his role as a Behavior Change Communication Manager, Hussain managed the creative design, implementation and evaluation of a $1M media campaign in the earthquake hit areas of Pakistan.
---
Selected Awards and Accomplishments
2020 Recovering Truth Fellowship
2020 Top Paper Award, National Communication Association Conference, Indianapolis, USA
2020 Global Future Leaders: Research Accelerator Program, Arizona State University, USA
2020 Top Paper Award, Broadcast Education Association conference, USA
2019 Top Faculty Paper Award, National Communication Association conference, USA
2018 Top Faculty Paper Award, National Communication Association conference, USA
2018 Outstanding PhD Student Award, School of Journalism, Michigan State University, USA
2017 Top Scholar-to-Scholar Presentation Award, AEJMC Visual Communication, USA
2017 Top Poster Award, DC Health Communication Conference, USA
2016 Innovations Venture Fellow, MSU Technologies Innovation Hub, USA
2016 Best Doctoral Student Presentation Award, Media and Information PhD, US
2015 Best Junior Doctoral Student Presentation Award, Media and Information, USA
2012 Fulbright Scholarship, Masters in Health Communication, USA
2010 Save the Children Outstanding Performance Award, Flood Emergency Program
---
Selected Publications